Flying on a private jet is the ultimate high-status habit, not to mention the most comfortable way to travel. You avoid the stress associated with getting to the airport on time—your flight is catching you. Check-in is as simple as a nod to the crew, your crew. And only you decide when and if to take off your shoes. Within minutes of your arrival, your Hawker 800 XP, which seats eight comfortably, is airborne, carrying you aloft through the open and mercifully traffic-free blue skies.
This experience is no longer the sole privilege of those billionaires who can afford their own jets. Private jet companies like NetJets and CitationAir have made (and lost) a bundle promoting the benefits of what is known as "fractional" jet ownership. And now the exclusive world of private air travel is evolving even further.
As private air travel takes off, companies are adapting to customer needs. It's become more convenient (BlackJet has an app) and, as fleets increase, more affordable as well. Many private fliers are moving away from fractional ownership and chartering individual flights, substantially bringing down costs. Chief Executive Air (CEA) and Privé Jets, companies that specialize in chartering private flights, are attracting customers who want the comfort, convenience and status of flying private without the burdens of owning a plane or even part of one. The skies no longer belong just to airlines and the ultra-rich, as private flights are gliding increasingly within reach.
NetJets, the Pioneer
In 1986, NetJets invented the idea of fractional jet ownership, a revolutionary approach at the time. Rather than buying an entire jet, customers could purchase a small percentage of one and receive the right to use that jet (or one just like it) for a specified number of hours. The company's brilliant innovation was not one of affordability but of availability. NetJets opened the world of private travel to thousands, and capitalized both on affluent passengers' desire to fly in style and on their reticence or inability to purchase an entire plane. In 1998, Berkshire Hathaway purchased NetJets. Backed with billions of dollars, it grew its reputation and its fleet. NetJets has logged more flight hours in the last 25 years than the combined fleets of all of the other companies that emulated its fractional ownership model.
However, purchasing a share in a NetJets plane is a convoluted financial endeavor, which includes wading through an 80-plus-page contract. Buying a piece of a plane is exactly what you would imagine it to be: really confusing … and really expensive.
For example, NetJets allows its owners to switch to planes of different sizes, but there is a fee for that option, as every aircraft is valued based upon size. Thus, one hour on a 15-seat G-IV costs slightly more than two hours on a Hawker 800 XP. Trading in a plane for a larger one is expensive and can drain a fractional owner's allotted hours very quickly.
The Original Competition
CitationAir was a rival of NetJets in the fractional market for a decade.  But, to many customers' surprise, CitationAir closed its fractional program in 2012. The company has not stopped providing travel options; instead it has moved into the chartering business.
Brian Foley, an aviation consultant and president of BRiFO, attributes Citation's change of direction to overcrowding in the fractional market. "Fractional ownership went through an extremely rapid growth rate in the 1990s and early 2000s and hit a wall with the economic downturn in 2008," Mr. Foley says. "At that time, fractional owners ran for the hills."
Even if the fractional model has passed its extreme growth phase, there is still a demand for partial jet ownership. For example, Flexjet, the company with the second-largest share of the market after NetJets, continues to thrive, serving roughly 850 clients with a fleet of 80 planes. "Flexjet has shown no indication that they are slowing down," Mr. Foley noted.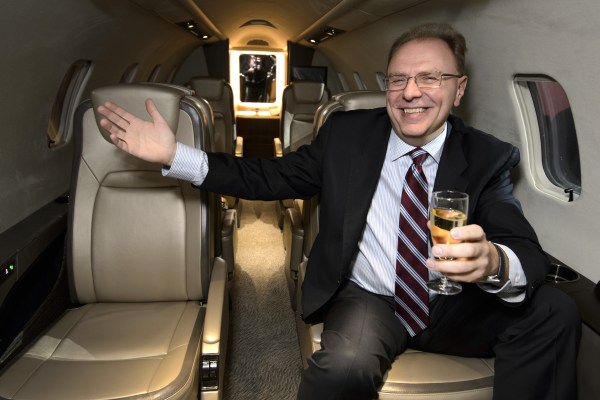 Private Jet Chartering
More companies and wealthy individuals are purchasing private jets. General Aviation Manufacturers Association reports that from 1997 to 2004, a total of 4,941 business jets were purchased worldwide. Since 2005, there has been a 44 percent increase in business jet purchases, with 7,098 planes purchased in the past eight years worldwide. Many owners subsidize their purchase price and maintenance costs by chartering out their planes.  Jeffrey Menaged, president and CEO of Chief Executive Air, has been chartering private planes for 12 years. CEA, CitationAir and an assortment of other chartering companies offer customers private air travel on a trip-by-trip basis. Unlike NetJets, which binds fractional owners to a specific-sized aircraft, chartered flights are booked as single events. With chartering, there is no initial purchase price or management fee. Customers provide their brokers with their itinerary, which is then priced. Mr. Menaged puts it succinctly: "I am only as valuable as my last trip."
To understand this in real numbers, I evaluated a typical NetJets customer's bills for his last 10 trips, excluding his initial purchasing fee. These trips cost 25 hours of flight time. Then I priced the same itinerary on CEA, CitationAir and Privé. For all of the flights together, CitationAir was $60,000 cheaper than NetJets, and CEA and Privé were each about $70,000 less expensive.
Apples to Apples
| | | | |
| --- | --- | --- | --- |
| | Teterboro – Baltimore | Teterboro – Fort Lauderdale | Teterboro – San Diego (One Way) |
| NetJets | $13,800.00 | $44,000.00 | $60,000.00 |
| CEA | $9,300.00 | $27,400.00 | $40,000.00 |
| CitationAir | $10,500.00 | $30,500.00 | $32,000.00 |
| Privé | $8,000.00 | $28,000.00 | $40,000.00 |
One reason charter companies are able to offer cheaper flights is because they want to avoid flying empty. When a plane is chartered one way from Teterboro to Florida, for example, the plane will return home empty. To avoid this loss of revenue, plane owners offer reduced fares. Trips to remote locations may leave no options, but big-city fliers often capitalize on this opportunity.
NetJets Fights Back
Despite the expense, NetJets continues to dominate the market. The words "my plane" carry significant cachet. The company also succeeds by focusing on branding. "The plane you fly will look the same, inside and out, as the one you purchased, every time you travel," says Mr. Foley. "Even the uniforms of the crew are the same."
NetJets has also created another program, Marquis—a prepaid jet card. Customers purchase hours valid for 18 months for a specific plane they do not own and pay a set hourly fee upfront. It's a pricey hourly fee. As Mr. Foley points out, "Marquis is probably the most expensive way to travel." Under the Marquis plan, 25 hours on a Hawker 800 XP costs $200,000—plus fuel and tax costs. Hourly, Marquis costs more than $9,500. If a customer does not use his hours during the allotted 18 months, he must buy more hours in order to retrieve his expired hours.
Nothing's Perfect
So why haven't chartered flights usurped fractional ownership? "Charter companies don't have the resources of a multibillion-dollar parent company to guarantee backup airplanes," says Michael Riegel, the CEO of Aviation IQ, who has been involved in the creation of fractional programs for the last 20 years. "If a chartered plane encounters a maintenance glitch, the customer may get a phone call with an apology." There is also less flexibility with chartered planes. If a customer travels on a chartered Citation X to the Bahamas for a week, the plane will not sit idle. It will be kept busy. If that customer unexpectedly decides to return home two days earlier than planned, it may be impossible to locate an available plane. NetJets has a large enough fleet to send a plane immediately.
NetJets actually owns a private chartering company, Executive Jet Management (EJM), which became a subsidiary of NetJets in 2010. It uses NetJets planes and offers a cheaper (albeit more expensive than CitationAir, CEA and Privé) alternative to NetJets. In fact, it is hard to find a fractional ownership company that does not have a chartering affiliate or division. It seems clear that if fractional programs do not evolve, it is only a matter of time before the savvy consumer starts asking why he ever bought into one. The market is primed for a shakeup. The sky is still the limit.
editorial@observer.com