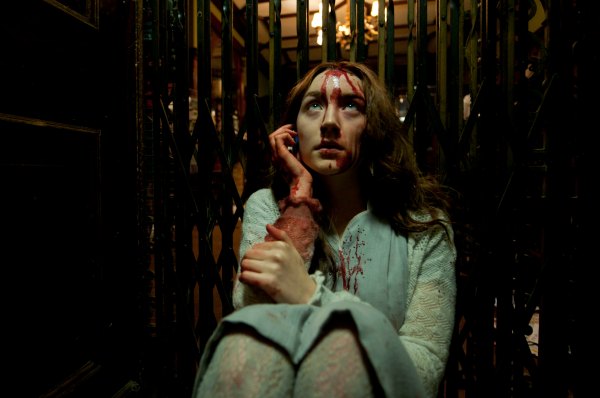 It's been almost 20 years since acclaimed Irish director Neil Jordan's lush, atmospheric vampire epic Interview with a Vampire, but he's forgotten nothing. Now the master of the Gothic literary vampire genre is back with another classy entry in the same category. The uneven but aptly named Byzantium is not as accomplished as the director's 1994 depiction of bloodsucking through the centuries, an adaptation of the Anne Rice classic. There isn't a fang in sight. But short of tooth and long on artistry, it makes up for what it lacks in gore with sensitive characters and magnificent camerawork, piling on a lot of style and an abundance of thrills for the market value. Mr. Jordan still knows the territory.
A mother-and-daughter pair of fiends prowls the night, pursued by a powerful underground force of avenging vampires called The Brotherhood. Curvaceous, juicy Clara (Gemma Arterton, who can also be seen currently in a totally different persona, co-starring with Vanessa Redgrave and Terence Stamp in the touching film Unfinished Song) survives by working as a stripper and prostitute, often feeding on her customers and leaving their corpses behind in what the police label the work of a serial killer. Her 16-year-old daughter Eleanor (the magnetic Saoirse Ronan, who specializes in playing tortured adolescents and teens in peril) was born in a brothel in 1804, raised in an orphanage and now restricts her own disease to the more humanitarian side of vampirism, preying on the sick and elderly to release them from their pain, and recording her memories of the past 200 years in a journal she hides from her mother.
Escaping the city after Clara breaks the rules by killing a member of The Brotherhood, they seek refuge in a gloomy, fogbound seaside town on the rugged southern coast of England. Clara doesn't know it, but this just happens to be the same village where she was raped, turned into a whore, impregnated by two vicious navy officers (Jonny Lee Miller and Sam Riley) during the Napoleonic Wars and then transformed into a vampire. When Eleanor was released from the orphanage, she met with the same corrupt fate. Understandably, the last two centuries have left her unsatisfied. It's not easy being 16 years old for eternity.
One night Clara picks up a shy, awkward fellow who has just inherited a small, deserted hotel called the Byzantium from his dying mother, and they move right in. It's a seedy, derelict place from the pages of Charles Dickens, but it offers a wealth of possibilities for Clara to shack up indefinitely and lure new victims, especially after she turns it into a working waterfront bordello. While the voluptuous mom plies her sex trade in black lace panties and stiletto heels, feasting on her customers, the sensitive daughter joins a creative writing class (taught by an uncredited Tom Hollander) and falls for a kindred soul as her perfect lover and companion—a docile waiter doomed by leukemia who discovers her secret through a classroom assignment and begs to join her as one of the undead. These are not the sort of vampires who would ever befriend Bela Lugosi on Facebook. Instead of sharp teeth, they use one razor-sharp, carefully manicured fingernail to open the veins of their innocent targets. They have no aversion to daylight. They are not burned by the sun. They fear nothing as silly as a crucifix. They can see their reflections in mirrors. But they are vampires the way I like 'em—savage, ruthless, indestructible, always thirsty, sexy, loaded with a sense of Armageddon and dripping with blood.
Neil Jordan sets the action in the present, but the screenplay by Moira Buffini jumps back and forth through the centuries, contrasting the world of today (backpacks, cellphones, computers, rock songs) with the antediluvian past of gaslights and horse-drawn carriages. Some of the effects are spectacular, especially the pagan island cave where the women go to be turned into vampires, replete with waterfalls of blood. Eventually the gimmicks wear out their shelf life and the movie grows tiresome. The two enigmatic leads are hypnotic. Gemma Arterton is fast becoming one of the U.K.'s most diverse and skillful new faces. Still fresh in my mind from her recent triumphs as deadly teenage assassins in both Hanna and Violet and Daisy, Saoirse Ronan has a patrician sweetness that masks undercurrents of risky, edgy and fearless danger. They are both mesmerizing. Neil Jordan creates a mood on a lavish scale he doesn't always sustain, and the brutal, violent and blood-splattered finale is a big, anticlimactic letdown. It's not perfect, but when it works, Byzantium towers above all of the romantic vampire slobber we've been getting lately. I fear that Dracula is watching from some moldy crypt somewhere, nodding approval.
rreed@observer.com
BYZANTIUM
Written by Moira Buffini
Directed by Neil Jordan
Starring Saoirse Ronan, Gemma Arterton and Caleb Landry Jones
Running time: 118 mins.
Rating: 3/4 stars