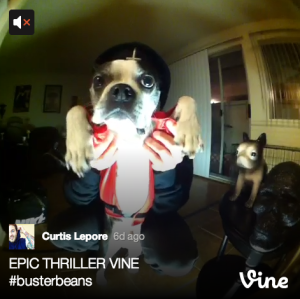 With Vine users uploading more than 12 million videos a day via Twitter, it's hard to keep track of all those six second masterpieces that are percolating in the app. But there's a solution! It's called Vinecrawler, a database of the four million videos posted to Twitter and and sorted according to popular tags and the most active users.
So, what kind of great videos can you find on Vine? For starters, there are lots of porn clips from user Ass1892, who posts NSFW videos at a dizzying pace. In the tags section, #firstpost ranks high if you're feeling the need to watch the cringe-inducing inaugural clips people post to Vine before they quickly forget about the app (hi!). And this wouldn't be the Internet without a One Direction mention as Harry Styles' mundane video selfies of brushing his teeth is retweeted an exorbitant amount.
On Medium, also known as the Thought Catalog for rejected TED speakers, Vinecrawler's developer John Muellereile wrote that he found plenty of neat stuff when creating the database:
What I really found was humanity; all shapes, sizes, colors, and places, all things. When I find that, in the way I've found it through Vine, in one place, using one simple thing, I'm reminded that when we get the technology right, top to bottom — like pointing at something, in the moment, that you want to remember and share– it spreads everywhere, it's natural, fundamentally intuitive to use, possibly magical in operation, like magnets, or gravity, or maybe even a little bit like life.
Uh, I guess that's one way to describe clips of people making fart noises, dancing dogs and Harry Styles spitting into a sink.
(H/T Atlantic)