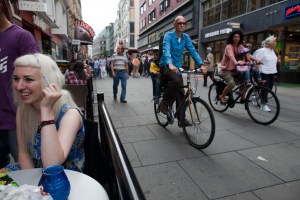 The latest edition of WSJ. magazine features a terrific piece on Oslo's efforts to become a visual art capital, aided by its nation's oil-inflated sovereign wealth fund. It's a bit like Doha but with better politics.
Here are two exemplary paragraphs:
Even as the city has held fast to some of its grittier elements—a heroin problem lurks in the shadows—you see emblems of its dedication to art everywhere: architectural coups like the opera house designed by the award-winning Norwegian firm Snøhetta or, nearby, along the waterfront, Renzo Piano Astrup Fearnley contemporary art museum, financed by the private wealth of a shipping family and sponsored by Swedish oil firm Lundin Petroleum . New space for the Munch Museum—currently mired in political debate over its location—is forthcoming, as is a new building for the National Museum, slated to open in 2017 and constructed to hold the institution's classical and contemporary collections.

Apart from its showier signifiers of wealth, a wholesome enthusiasm suffuses the Oslo art scene, perhaps because of its geographic isolation, extreme climate and high cost of living. At the April reopening party of Kunstnernes Hus (Artists' House)—a club across the street from the Royal Palace—more than 100 people waited in line outside the door. Inside, Karl Holmqvist—one of the most famous artists in Sweden—performed onstage. "Who runs the world? Girrrrls," he bleated into the microphone. Half the room watched while the other half talked giddily over beers from Dronebrygg, an Oslo-based artist-run microbrewery.
Go read the piece. It's really good.