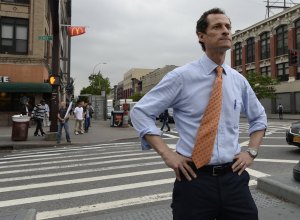 In an interview on CBS radio this afternoon, Anthony Weiner said he simply had a "New York-style" exchange with a Democratic district leader who blasted him this week for running for mayor after resigning over a sexting scandal. 
"Actually, it wasn't heated at all," Mr. Weiner insisted. "There was a story in BuzzFeed or whoever covered it, that said it was a calm exchange that got a little bit New York-style, someone wanted to yell and all I said is, 'You can't grandstand on this issue.'"
On Wednesday night at the New Kings Democrats event, district leader Chris Owens told Mr. Weiner he was "outraged" and "disgusted" by his audacity. Mr. Weiner grew increasingly agitated during the back-and-forth with Mr. Owens and another attendee, and he accused Mr. Owens of holding a grudge because Mr. Weiner endorsed a rival in Mr. Owens's 2006 failed bid for Congress. The war of words marked the first time on the campaign trail that Mr. Weiner, once infamous for his temper, was visibly angered.
But in the radio interview today, however, Mr. Weiner downplayed the incident, telling host Steve Scott that he enjoyed heated encounters.
"I'd say, basically, standing up for want you believe in, speaking clearly to people, and understanding they're gonna push back pretty hard," he said when asked what "New York-style" entails. "I frankly like that tussle of politics and tussle of the way we do things in New York. You know, you can have five New Yorkers standing in a circle, and you can have 12 or 13 different opinions and I like it that way."
Mr. Weiner further offered a more or less humble reply to anyone who wants to continue bringing up his scandal moving forward.
"If someone wants to ask about my personal failings, it's their right to, I respect their right to," he said. "But also there a lot of people who want to talk about other issues and I'm not going to let anyone bully me or my neighbors."