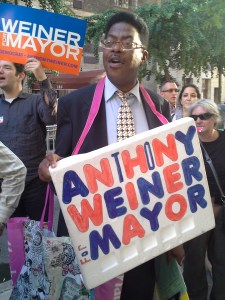 A pack of boisterous Anthony Weiner volunteers nearly overwhelmed rival camps last night outside the first televised debate of the ex-congressman's mayoral campaign. Several dozen strong, the Weiner devotees serenaded the once-fallen legislator with cheers as he crossed Lexington Avenue, their numbers dwarfing their opponents'.
"Anthony! Anthony! Anthony!" the volunteers, many of them in their twenties and thirties, chanted as Mr. Weiner–clad in a suit and jacket for perhaps the first time on the campaign trail–shook hands and schmoozed with his fans outside of Hunter College. The event was highly-orchestrated but nevertheless demonstrated that Mr. Weiner, nearly a month into his campaign, has been able to wrangle together a solid number of volunteers despite an embarrassing Twitter scandal that drove him from Congress two years ago.
"We want someone who's going to represent the issues of the city and be consistent, not someone who's going to flake out after the he or she gets in office," said Steven Charles, a southeast Queens native and one of the most vocal volunteers. He added that the mayor's race, up until now, "was real dry and dull. It reflected what the city doesn't need, individuals who haven't been around or individuals who have been talking loud and saying nothing. With Anthony Weiner injected into the race, it has provided a new spark of interest."
One woman asked Mr. Charles, wielding a large blue and orange Anthony Weiner sign, if he was "really holding a sign for that man."
"I sure am," he shot back, smiling.
Mr. Charles, an environmentalist, said he was immediately inspired to volunteer for Mr. Weiner the day he entered the race in late May. Before Mr. Weiner, he was leaning toward supporting Public Advocate Bill de Blasio.
"This city is going to see a show, this city is going to see someone who's going to represent in a way that is very articulate, something that we haven't seen in years, since he's been missing or since he's stepped down from Congress and was I very excited," Mr. Charles said of his thought process when Mr. Weiner first plunged into the race.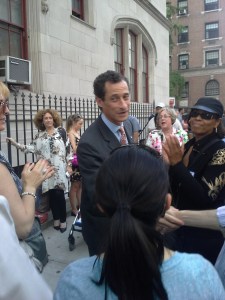 Meeting at the corner of East 68th Street and Lexington Avenue, the volunteers split into two groups, petitioning and handing out stickers. After Mr. Weiner crossed the street to chat briefly before heading into the debate, the group set out on a march around the block, chanting Mr. Weiner's name. Volunteers for Mr. de Blasio, Comptroller John Liu and Council Speaker Christine Quinn–as well as anti-Quinn protesters–remained outside the public entrance in smaller numbers.
As stipulated in a campaign email the night before, the rally culminated at a viewing party several blocks south at a restaurant called Burger Heaven. Mr. Weiner's camp was alone among the Democrats in actually hosting a debate watch party.
Before Burger Heaven, the volunteers snaked around Hunter College, waving signs and chanting. Mr. Charles took the lead, shouting, "Anthon-y, Anthon-y,  Keys to the Cit-y," referring to the 64-point policy booklet that has become a centerpiece of Mr. Weiner's campaign. One volunteer, a Rockaway native who declined to give his name, said he'd been fond of Mr. Weiner since he represented the neighborhood in Congress.
"The race was very boring before Weiner jumped in," he said. "I think the scandal is going to be behind him. He's not beholden to anyone, either, and I don't think Quinn is going to do well in the Rockaways."
The volunteers, many of them press shy, soon marched into a cluster with volunteers from other campaigns, their "Anthony" cries clashing with "Bill de Blas-io!" and "Chris-tine Quinn!" chants. Police led all of the volunteers behind barricades, where Weiner acolytes outnumbered the rest.
A Weiner volunteer leader hurriedly explained that they would be dividing into two camps, either to watch the debate in person–there weren't many seats left in the auditorium–or to trek downtown to Burger Heaven. Many opted for the viewing party, though Mr. Charles chose to remain at Hunter College.
"You got to be fucking joking me," an elderly man angrily muttered at the sign-holding Weiner supporters ambling downtown on Lexington Avenue. Ignoring the man, they walked on, chatting among themselves.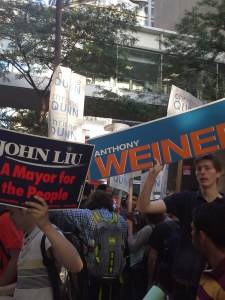 The supporters heading to Burger Heaven were less willing to speak with Politicker about their devotion to Mr. Weiner.
"They told us in orientation not to talk to the media," one volunteer said.
All press was barred from the Burger Heaven watch party, but Politicker attempted to catch up with Weiner volunteers after the conclusion of the debate. One lone petitioner remained in the dusk, clinging to a sign while soliciting signatures outside Hunter College.
"I can't talk to you now," he said. "My voice is hoarse from petitioning."