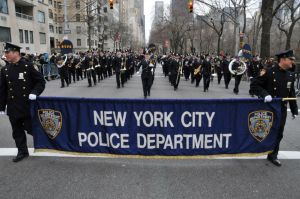 Por qué no los dos?
NYPD officer Jessenia Guzman has been issued a "memo of reprimand" after speaking Spanish on the job, according to the Daily News. Ms. Guzman's transgression was in violation of the police force's "English-only" workplace rule.
"We're a 24/7 operation," an NYPD spokesman told the Daily News in defense of the policy. "We should be speaking one voice, which is English."
Officer Guzman, 40, was flagged after a single-sentence Spanish exchange with a coworker while manning the 24th Precinct switchboard. The reprimand, which detailed the NYPD requirement of "[communicating] department business in the language of English," will remain in her personnel file for the rest of her NYPD career. She has served as an officer for 13 years.
"It was just natural," Ms. Guzman said. "She walked by. She was going to get coffee. She said something. I responded (in Spanish). That was it."
The coworker, however, who also spoke Spanish in the interaction, was not cited in violation of the rule. In response, Ms. Guzman has already filed two federal equal employment opportunity complaints against the lieutenant who issued her reprimand.
For the National Latino Officers Association, the incident represents a clear discrimination against Latinos in the workplace. Linda Cronin, general counsel for the organization, expressed her additional fear that the policy is too vague in terms of when Spanish is permitted.
"When it's good for the department, they can speak Spanish," she told the Daily News. "When it's not convenient, you'll be disciplined."