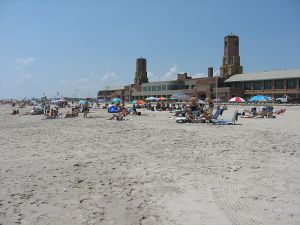 Now that they can no longer frolic topless at Fort Tilden, where will the hipsters sunbathe and swim this summer? What beach is cool, but not trying too hard to seem cool? Populated with just enough locals to add authenticity, but not so many that hipsters can't dominate the scene? Gentrified enough to sell gourmet street food? Or remote enough to have an unenforced BYOB policy?
The frontrunner is, of course, the Rockaways—despite having been, in The Observer's opinion, very much overhyped as a hipster destination these last few years (it is definitely not Williamsburg on the shore. At least not yet). The beach has a few more big factors in its favor as well—not only is Rockaway Taco back, but it is one of two stops on the Rockabus—essentially promising busloads of hipsters every weekend from Williamsburg, the Lower East Side and soon, Grand Army Plaza. But the New York shore has a few dark horse candidates that might well end up drawing the tattooed masses instead.
Among them, Jacob Riis Park—the other Rockabus destination and one of the four Jamaica Bay beaches that, according to the Daily News, are angling to attract displaced hipsters. The Daily News makes much of the fact that vendors are offering bike, paddleboard and kayak rentals, alongside hipster-friendly food purveyors like Rickshaw Dumpling and Eddie's Pizza Truck. Although the News may be guilty of more than a little exaggeration when they write that these vendors are trying to take tapping into the hipster vibe—the bike concessionaire's director speaks of the rentals as being "great family fun," which, despite the growing chorus of complaints about babies in Williamsburg bars, does not exactly sound like tapping into the hipster vibe.
And while they cannot match the freedom or wildness of the anything-goes Fort Tilden, Jacob Riis Park, Canarsie Pier, Riis Landing and Marine Park do offer an undeniable geographic attraction—Riis is right next to the lost wonderland.
There are a few candidates further afield—but further afield is a real problem for a largely car-less population disinclined to take long public transportation schleps. Jones Beach is so utilitarian as to be almost without charm and while Montauk has, in summers past, been so inundated with hipsters that locals have taken to posting signs of fedoras with red slashes running through them, it's basically as far from the city as Cape Cod. And we'd say that the reportedly rising demand for valet parking, night clubs and $27 lobster rolls may indicate the Montauk invasion is not really one of the hipster hordes in the first place.
But our money is on Coney Island which, shockingly, has not been colonized earlier. Not only is on a subway line, but it an appealing history, a slightly gritty vibe (but not too gritty), vendors that serve alcohol, and amusement park rides, perfect for all the kid-ults.
Of course, the hipsters could just hang out around the neighborhood, cooling off at McCarren Park pool, but let's be realistic—the pool has a strict dress code (only real swimsuits in the pool) and as a city park, strictly prohibits alcohol and smoking.