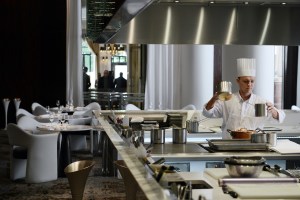 Talk about getting chopped…
A Staten Island chef is suing his former employer after allegedly being shown pictures of chopped fingers in response to his repeated requests for a tax form.
Alfred Lolange of Flatbush claimed in a lawsuit — filed June 6 with the Brooklyn Supreme Court — that the management of Z-Two Diner and Lounge harassed him for months before firing him for asking for his W-2s.
According to DNAinfo, Mr. Lolange began working for the Staten Island diner in February 2012 with a $2,000 per week salary. After his first week in the kitchen, he was only paid $1,500 in cash. His boss, diner owner Steve Osman, withheld the remaining $500 for "tax purposes."
In January, Mr. Lolange approached Mr. Osman twice about a W-2 form to pay his taxes. According to the lawsuit, Mr. Osman said the form was on its way. Mr. Lolange claims he was harassed for the following three months until the feud came to a head March 31 when he found his after-work clothes cut up after a shift.
Mr. Lolange approached his boss about the incident. Mr. Osman response was "This is what happens to people who talk too much" then fired Mr. Lolange. The lawsuit seeks the withheld money and unspecified punitive damages.
"My client is determined to get what's owed to him and make a point here — it's not the way you treat people," Mr. Lolange's lawyer, Anthony Mango, told DNAinfo.
Wait, nobody else resolves conflicts with chopped appendage threats anymore?