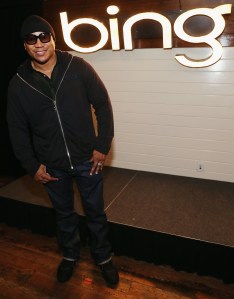 "It's good to be home," LL Cool J told a room full of bloggers on Tuesday night. He was hosting a Father's Day event along with Bing, the Microsoft-powered search engine that hopes to give Google a run for their money. (The Observer took the Bing Challenge, and shockingly, Bing won).
Dressed in a fitted black hoodie, square shades and some tasteful bling, the dashing–and surprisingly tall–rapper and actor took a break from his "Kings of the Mic" tour with Ice Cube, Public Enemy and De La Soul to give Bing props and talk to The Observer about the music biz and the mayor's race.
"I was shocked about some of the things that happened earlier, people getting caught up in 'situations,'" he said diplomatically, referring to Anthony Weiner's Twitter misfire.
"But look, at the end of the day, nobody's perfect. How are we going to judge politicians 20 years from now, when everybody's Facebook from high school and college is haunting them? Leadership requires character, integrity, I get that, but you also need the ability to execute and deliver. That, to me, is what's important."
The musician has some sympathy for Mr. Weiner.  He's made some unpopular choices along the way, too–most recently, for collaborating with Brad Paisley on the critically panned "Accidental Racist."
"At the end of the day, no matter what you do, you're going to lose somebody," he said.
"If you give it to them supremely raw, there's going to be somebody saying, 'He disappointed me.' If you give it to them a little clean, a little smoothed out, there's going to be somebody saying, 'He's not keeping it real.'"