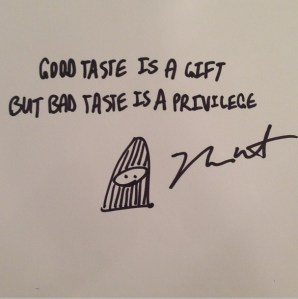 If you follow the curator extraordinaire Hans Ulrich Obrist on Instagram you know that his shtick mainly consists of asking famous artists to write mission statement-y affirmations on a piece of paper, which he then photographs (e.g. "We are what?" —Paul McCarthy). His latest catch is none other than America's most uncontroversial pop figure: Kanye West.
You can see what Mr. West wrote to the left. The sentiment mirrors something he recently told The New York Times in a major interview: "I love the fact that I'm bad at [things], you know what I'm saying? I'm forever the 35-year-old 5-year-old. I'm forever the 5-year-old of something."
"What a meeting of kings that must have been," wrote a colleague of mine on Gchat, when I showed it to him. Hopefully it will lead to some kind of guest vocals on the next album, or possibly a romance with a Kardashian sister.