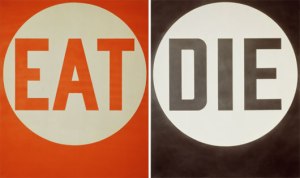 This fall, the Whitney will present a retrospective of artist Robert Indiana, perhaps best known for his LOVE sculpture. Tellingly, the show will be called "Robert Indiana: Beyond LOVE."
A release from the Whitney states:
"The success of LOVE eclipsed to a great extent the range and breadth of Indiana's work. Robert Indiana: Beyond LOVE remedies this by placing well known works such as EAT/DIE (1962), Exploding Numbers (1964–66), and LOVE (1965) alongside more than seventy-five other works, from early pieces the artist made in 1955 to his Ninth American Dream (2001), the last piece in a series that has consumed him throughout his career."
The show opens Sept. 26 and will travel to San Antonio's McNay Art Museum in February 2014.