Public Advocate and mayoral candidate Bill de Blasio is not happy that the Rent Guidelines Board, which decides rules on allowable rent hikes for stabilized apartments each year, has, citing poor attendance, stopped holding meetings outside of Manhattan.
"This arrangement all but assures the working people most affected by the board's decision will be unable to participate, and their voices will have no bearing on the final rent increase decision," Mr. de Blasio told The New York Times last week. "This is not a mere inconvenience—it is a downright failure of the democratic process."
Mr. de Blasio's complaint taps into two very powerful forces in New York City politics—outer borough resentment at being left out of Manhattan-centric decision making, and the pervasive feeling that the rent is too damn high. But is it justified?
The fact is that the vast majority of rent stabilized apartments in the outer boroughs and Upper Manhattan are practically speaking not rent-stabilized. While they may be technically rent-stabilized, neighborhood prices fall far below the legal maximum rent, meaning that the annual increases are essentially meaningless.
"The working people most affected by the board's decisions" are not in Queens or the Bronx, but in Manhattan.
Outside of the Manhattan core, brownstone Brooklyn and a few pockets in northern Brooklyn, the legally-regulated rents on apartments are actually higher than—in some cases, double or more—the market-rate rents that tenants are actually charged, which show up on lease agreements and monthly bills as "preferential" rates and credits. The RGB's decision do affect the legally regulated maximum rents, but for the foreseeable future, most New York City tenants won't pay rents anywhere near these limits.
When this reporter first moved to New York, for example, we were thrilled to find a rent-stabilized three-bedroom on Flatbush Avenue in Prospect Lefferts Gardens. Only when we looked at the lease did we realize that the stabilized rate was a good 20 percent higher than the rate we were charged—meaning that any time, the landlord could hike the rent to the legal stabilized rate, effectively eliminating our protection against increases. (It used to be that landlords could only increase preferential rents by large amounts after a tenant left the unit, but as of 2003 that is no longer true.)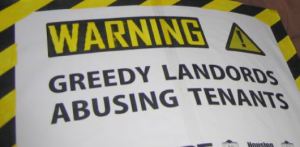 And when, a year later, we moved two subway stops south, to a studio in a large, rent-stabilized building at Ocean and Church Avenues, the disconnect grew even greater: the legally regulated rent on this reporter's $1,050-a-month studio is far more than twice what we're charged—meaning that absent an unprecedented wave of gentrification sweeping across Haitian Flatbush and a more than doubling of market rents, the building is as good as unregulated. (The reason for the massive chasm between the preferential and regulated rents is that the neighborhood has declined precipitously since 1974, the year rent stabilization took effect.)
And it's not just Flatbush—preferential rents are common in stabilized buildings throughout the outer boroughs (and one of our colleagues even had a preferential rate on her Yorkville studio, which she is being forced out of because the landlord is taking advantage of his ability to hike the rent come September).
While we couldn't find any hard data on preferential rents in New York City, we've heard plenty of outer borough residents whose experiences echo our own: a $1,850 one-bedroom in Sunnyside whose regulated rate is 40 percent higher, a $1,000 two-bedroom in Kingsbridge with a regulated rent that's more than 50 percent higher. We've even heard from someone in fast-gentrifying East Williamsburg who pays around $3,000 on an apartment whose maximum legal rent is $3,700.
This is not to say that people with preferential rents can never benefit from rent stabilization. We spoke to one affordable housing advocate this week who said that when he moved into his apartment on Franklin Avenue in Brooklyn, the preferential rent was lower than the regulated rent, but they have since converged. And if the $3,000-a-month East Williamsburg renter sticks around for another few years, rent stabilization may eventually help him, too.
And if the Rent Guidelines Board took a sharp turn to the left and decided to freeze regulated rents every year for the next two decades, renters in Queens and the Bronx might some day see their preferential rents converge on the legally regulated maximum, and could find themselves paying lower-than-market rates.
But for now, if Mr. de Blasio thinks that outer borough renters deserve protections from rent hikes, he should address the issue of preferential rents, not grandstand about the lack of meetings outside of Manhattan. For those tenants, the Rent Guidelines Board's decision have about as much relevance as they do for renters in Wyoming.