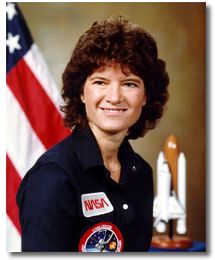 Girls already run the world, so the next logical step is for us to dominate the entire universe. The Daily News reports that on the eve of the 30th anniversary of Sally Ride's space launch, NASA has chosen eight new astronauts to report for duty at the Johnson Space Center in Houston, and four of them are women.
Writes the News:
"The Class of 2013's Nicole Aunapu Mann, a major in the Marines, is an F/A 18 pilot serving at the U.S. Naval Air Station in Patuxent River, Md. Army Maj. Anne McClain is a helicopter pilot. The two other women, Christina Hammock and Jessica Meir, are scientists."
A NASA administrator told the Daily News that the fresh class of space explorers will help lead a mission to an asteroid in 2020 before eventually making their way to Mars.
Congrats to NASA's newest crop of veritable badasses. And remember, the best part about being an astronaut? No (glass) ceilings in SPACE.