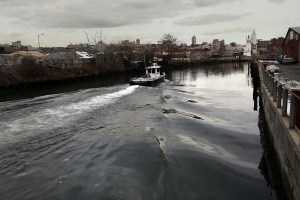 The teeming waters of the Gowanus Canal have never been more alive–and not just with deadly, deadly bacteria.
On June 15, the super-polluted Gowanus Canal will be hosting the Gowanus Challenge, a 2.5-mile boat race that aims to raise funds and, hopefully, awareness. Gowanus Dredgers Club treasurer Owen Foote told The Observer that the race has existed since 2006, but that this is the first year that teams have been tasked with a fundraising challenge.
The Dredgers, who are co-hosting the race with the Red Hook Boaters, aim to "improve the Gowanus waterfront in Brooklyn and… contribute to transforming a dilapidated, historically significant estuary into a self-sustaining, environmentally friendly and healthy waterfront," according to their website.
"It's restoration through recreation," Mr. Foote quipped.
Participants are encouraged to amass pledges, but it isn't mandatory. Teams wishing to borrow a canoe, however, must raise $500, or $250 for a kayak.
So far, the teams that have raised the most money are Greased Lightning ($820) and Toxic Avengers ($620), Mr. Foote's team. Red Hook Zombies raised a paltry $40, while teams like Valentino Viking, Team Stercutius, and Blouses are participating sans donation entirely. But don't worry: the four lowest fundraisers will apparently be "entered into a paddle board based jousting contest under the Carroll Street Bridge," where they'll get theirs.
"All waters of NYC Inner Harbor are contaminated so avoid consumption," the race's website warns. "Of course, we don't have the parasites found in other waterways because they can't survive in Gowanus."
Is the water too polluted for even the parasites? Silver linings.
Still, Mr. Foote says, there is no particular health hazard posed by racing on the canal, and the Dredgers have never had participants fall ill. But they encourage sanitary practices and keep plenty of Purell on hand.
"It's sort of like riding the subway," Mr. Foote said. "You don't know what's going to be on the subway pole. So proceed with caution."
A special tip of the hat to Brokelyn, who originally announced the race in a post titled, "Regatta Be Kidding Me." There's no better boat pun out there. Believe us, we've tried.