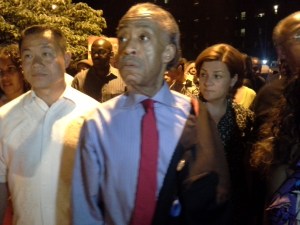 The five leading Democratic mayoral candidates–sleeping bags, gym shorts and bouquets in tow–spent last night sleeping in a Harlem public housing development, heeding Rev. Al Sharpton's call to "dramatize" the many maladies residents of the city's massive housing system face on a daily basis.
"We started hearing how people were ignored and I said the thing to do is, not only bring the candidates but to dramatize the issue. All of us stay in the development one night," Mr. Sharpton said last night at the Lincoln Houses, a development nestled next to the East River. "One night's not going to solve the problem. But one night is going to dramatize that there's an issue because the media will have to going forward say, one of the central issues in this city is people in public housing."
Invited by Mr. Sharpton, Public Advocate Bill de Blasio, Council Speaker Christine Quinn, Comptroller John Liu, former Comptroller Bill Thompson and ex-Congressman Anthony Weiner each spent the night, like Mr. Sharpton himself, with a Lincoln Houses host family. (The choice of the 25-building Lincoln Houses was no accident; the development is participating in a lawsuit against the New York City Housing Authority demanding more timely response to repairs.)
The Democrats fielded questions about the state of NYCHA at a town hall before a tenant leader led the candidates and Mr. Sharpton on a tour of the development. While the much-maligned housing authority was undoubtedly the chief political concern, Mr. Sharpton's coveted endorsement could not have been far behind. Still an icon in the black community, Mr. Sharpton, when asked by Politicker, was coy about which candidate he would ultimately back.
"I will think about it all night while I'm sleeping," Mr. Sharpton suggested.
Packing a senior center bereft of air-conditioning, the predominantly black residents of the buildings, many of them elderly, eagerly listened to how the Democrats would address NYCHA's slow pace of repairs, a budget shortfall and lack of jobs for public housing residents. The housing authority has come under fire in recent years for its lackluster response to the calls for repairs from residents. Broken elevators and mold proliferation are just some of the gripes long-time residents have with the housing authority's chair, John Rhea, and the man who appointed him, Mayor Michael Bloomberg.
On a tour of the facilities, the Gracie Mansion hopefuls nodded along as Patricia Herman, a fiery tenant leader, pointed out malfunctioning sprinklers on a playground, inadequate garbage pick-up and the failure of air-conditioning units, listing her many complaints rapid fire. Residents gawked at Mr. Sharpton and the horde of cameras trailing along, occasionally begging to take pictures with the long-time civil rights leader.
"We've been trying to get them to make the drop off spot for the garbage not out front here! It should be in the back of the building! They won't do it, that's silly," Ms. Herman burst out. The Democrats all agreed that was problematic.
After the tour, the candidates, sweat streaming down their faces, packed a dingy lobby to wait for their elevator ride to their apartments. Ms. Quinn stood with a bouquet of flowers, purchased at a Chelsea bodega, for her host family. Mr. Weiner clung to Crumbs Bake Shop cupcakes. The  former congressman had amused Mr. Sharpton earlier when he swooped in late into the town hall, heaving all of his luggage to the front of the room.
Politicker crammed into the rickety elevator with Mr. Weiner and a scrum of cameramen. As they continued to snap photos of Mr. Weiner–he wondered why digital cameras make snapping sounds–a reporter accidentally left the elevator one floor early, racing back just in time before the metal doors slammed shut.
"If I did any of that, he'd be tweeting up a storm," Mr. Weiner remarked.
A gaggle of reporters descended on Mr. Weiner's bemused and slightly overwhelmed host, 61 year-old Diane Beebe. As he knocked on her door, Mr. Weiner looked back, grinning into the many lenses.
"She's in for a surprise," he said.
The door, after a vigorous knock, creaked open.
"Why hello, I'm your roommate for the night," Mr. Weiner said.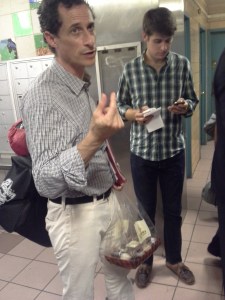 Mr. Weiner, pointing to his sleeping bag, said he'd be snoozing on the floor of Ms. Beebe's darkened living room. Cameramen trailed Mr. Weiner as he asked Ms. Beebe where she grew up and where she went to high school.
"I know stinkin' Lincoln," Mr. Weiner, familiar with Lincoln High School, offered.
A few doors down, Mr. de Blasio was locked in a more sober conversation with the son of his host, 38 year-old Reginald Wilson. Mr. Wilson was telling Mr. de Blasio how thugs had once pounced on him in broad daylight in Harlem, beating him nearly to death. Mr. de Blasio's daughter, Chiara, also spending the night, listened intently.
Katherine Wilson, Reginald's mother, was not sure where the six-foot-five Mr. de Blasio would sleep. Her couch appeared a bit short.
"I don't know at this point but whatever they want I'm willing to give 'em," she said.
Though air-conditioning did not pump through the apartment Mr. Thompson was sleeping in, he was blessed with the most spacious living room. As cameramen coaxed Mr. Thompson to unfurl his sleeping bag for a photo-op–his last sleepover was "in college," he said–the former comptroller tried to keep his composure.
"The one thing about this," Mr. Thompson said as many cameras clicked away. "This is not about votes. This is about the public housing authority and giving [residents] what they need."