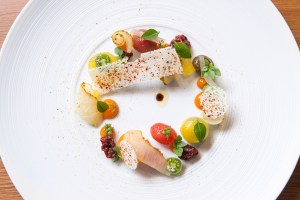 For centuries, the Williamsburg waterfront was flatland. North into Greenpoint, first there was a forest of firs and Lenapes, then low-slung brick buildings filled with lumber and grunts. Now it's less flat. Glass-curtain-walled condos rise quickly toward the heavens. Jacks spill from their two-bedroom beanstalks with their rhinoplasty Janes, wearing Toms, taking water taxis to the FiDi. They return only under the cover of night, in order to wash away their workaday filth with bowling and beer.
Earlier this month, into this frumious scrum leapt Paul Liebrandt, one of the city's most interesting and talented chefs. Mr. Liebrandt is best known for his work at Corton, the Tribeca feeding trough for plutocrats, whose accrual of stars is documented in A Matter of Taste: Serving up Paul Liebrandt, a fawning HBO documentary.
Anyone fortunate enough—literally, with enough of a fortune—to have eaten there will have firsthand knowledge of just how good Mr. Liebrandt is at what can only be called Liebrandtia, his sui generis, halfway demented culinary philosophy. It may be best characterized as a mania for detail, a virtuosic grasp of classical technique and a one-armed bandit of an imagination in which flavor combinations spin and spin until hitting their improbable jackpot. But it's a small room, Corton is, made even smaller by the high price of entry, the prerequisite of an enthusiasm for formal dining held by relatively few, and the willingness of the powerful to be powerless.
At Corton, Mr. Liebrandt's ambition was to own the empyrean, and he did, but he wasn't thereby satisfied. He wanted to own the stars and the masses over which those stars shine. Much more affordable and much less formal, his new restaurant, The Elm, is his play for the 99 percent.
But Jesus Christ on a cross, did he pick a place for it! The Elm has taken root on the south side of McCarren Park, on the northern border of Williamsburg. It occupies the bi-level basement of a hotel called the King & Grove Brooklyn, a shiny glass complex that encloses an outdoor pool and overlooks Mc-Carren's ragtail concrete baseball diamond. More so than even The Edge or 101 Bedford, it embodies the new Williamsburg of ass-clowns. Poolside, there are cabanas and a mural of warehouse windows—the type the condos replaced—called "Brooklyn Windows," by a graffiti artist named Specter.
The building has actually been around for a while. It first opened in 2010 as the Hotel Williamsburg, and it too had a fancy-ass restaurant. That restaurant was called Pillar & Plough, and it also promised a far-out gastronomic locavore experience. The restaurant got okay reviews, but both the hotel and the restaurant closed in a matter of months.
Last March, the hospitality operator King & Grove, which specializes in creating scene-y places for tan people to get tanner, like the Tides in South Beach and Rushmeyer's in Montauk, took over the hotel and the restaurant space with it. One of the company's first moves, and probably one of its only good ones, was to call Paul Liebrandt.
Trees have grown in Brooklyn before, but there's never been anything quite like The Elm. Though the restaurant offers Mr. Liebrandt a chance to bring Liebrandtia to the people, he doesn't pander. He's not flipping burgers or frying chicken—well, not exactly—and it's a good thing, too, because the last thing Williamsburg needs is another fucking comfort-food joint.
The Elm, instead, is slightly uncomfortable. Part of this discomfort is the space itself, which is still basically an atrium in a douchey hotel. Also, the servers are so formal, so almost embarrassingly capable, I almost wish they were a little less professional. It's like when you rent a really nice car, pull up to a stoplight and catch a guy in a Ford Fiesta staring at you. You want to say, "Oh, no no, the car isn't mine! I'm like you!" But of course you just nod like an asshole and floor it when the light turns green.
There's a whole other level of discomfort going on as well, which is much more promising and exclusively due to Mr. Liebrandt's weirdo genius. As at Corton, the food at The Elm is Spaceland stuff, adding new dimensions to old proteins, alerting you to the fact that, though you've been treating food like a square, it could be a cube.
The menu is divided into four frustratingly overlapping sections:  Raw, Sea, Land and Share. The kanpachi "jamon" ($17), for instance, is from the sea and raw and easy to share, but it lives under the category Raw, which is confusing. But it's also so delicious and surprising that who cares? Mr. Liebrandt cures the kanpachi with vadouvan spice, cuts it into strips, rolls it and serves it in a light wreath along with watermelon ovals and preemie tomatoes, fresh from the vegetable NICU. The watermelon's sweetness, the stupendous freshness of the tiny tomatoes, the subtle melting fish (itself edged with a spice from halfway around the world)—they regift back to you watermelon, tomato, amberjack and vadouvan as completely new entities. It's Christmas in July.
But that is just the beginning. At every step, Mr. Liebrandt drops glitter bombs of mad genius. The gnudi ($20), which is something I once surrendered the best execution of to The Spotted Pig, takes the five-borough crown. Not only are they perfectly formed clouds of ricotta, but they float around a benevolent, gently cooked scallop in an ethereal coconut-milk sauce, with hints of galangal and lemongrass, that Mr. Liebrandt calls "Tom Yum." Scallop, ricotta, coconut milk. Jackpot.
The short rib ($27), a neighborhood cliché, is transfigured into a tidy marbled cube of Black Angus prime. Gently cooked and powerful, it's like the beef tesseract and comes accompanied with couscous, tender thumbelina carrots, Argan oil and PL sauce, which is a riff on HP steak sauce but made with dates and tamarind.
Most impressive—to me at least—was the chicken "Kiev Style," worth the entire $56. Mr. Liebrandt, inspired by childhood memories of Marks & Spencer, breaks the chicken into three: of the breast, he makes two gently roasted logs with a liquid core of garlic, lemon and butter. Of the thigh, he makes tiny chicken croquettes. And of the wings, he makes a few squares: chicken tempura—and there is more to these little bits of fried chicken than all the other chicken joints in Brooklyn combined.
Mr. Liebrandt is a master of harmony on the plate, but he seems oblivious to disharmony off of it. How can a palate as seriously refined as his fail to recognize that he just opened a restaurant miserably suited for its neighborhood? How can Mr. Liebrandt not see that, though there is a market for elegant cuisine in Williamsburg, it must be cloaked in nonchalance or, failing that, Nordicism? Did he pop his head out of the kitchen at all to look around? Does he even realize there are no elms in McCarren Park?
Mr. Liebrandt either is naive not to know, is proud enough to think his food shall overcome all obstacles or was bamboozled by his partners into opening here. I'm going with the latter, since, with the exception of Drew Nieporent at Corton, Mr. Liebrandt has shown horrible taste in partners. (He fled Atlas, quit Papillon and was fired from Gilt.) Alas, The Elm too seems like a bad marriage.
Of course, bad marriages happen to good people. On one hand, I want The Elm to succeed. The more people who can eat Mr. Liebrandt's food, the more happy people there will be. But the only way for The Elm to succeed is for the hotel to succeed too. And the only way for the hotel to succeed is if Williamsburg becomes a northern suburb of Miami. That is a couple of years off at least. By then, I hope, The Elm will have been cut down and Mr. Liebrandt will have moved on to projects more worthy of his talents.