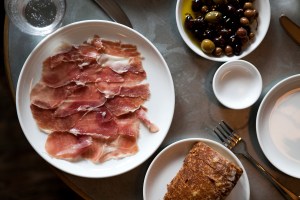 Any follower of recent restaurant palace intrigue will remember Ignacio Mattos, the Uruguayan chef and co-owner of the new restaurant Estela, from IsaGate 2012. A recap: in 2011, Freeman's handsome ogre Taavo Somer opened Isa, the woodsy Williamsburg restaurant, with Mr. Mattos in the kitchen.
Mr. Mattos's very strange food drew widespread accolades—the menu reminded me, in a good way, of a well-organized stroll in a postmodern glen, and it got two stars from The New York Times—but it turns out what Mr. Somer really wanted was much more simple and straightforward. So in June 2012, Mr. Mattos was summarily dismissed.
As Mr. Somer told Florence Fabricant, the restaurant cryptkeeper for the Times, "They [Mr. Mattos and his team] would not compromise. We did not share the same ambition." Mr. Mattos, on the other hand, was taken by surprise. He told Eater that "before opening, [Mr. Somer] embraced the ideas we had of trying to do something else."
Well, Mr. Somer got his grilled skirt steak and wood-fired chicken, while Mr. Mattos followed his ambition and got Estela. I think Mr. Mattos won.
Estela sits above Botanica, the dive bar institution, on perhaps the last stretch of Houston Street with true grit, or at least with two superlative dive bars (the aforementioned Botanica and Milano's), a real red-sauce joint (Emilio's Ballato) and a smoothie place with a terrific $3.50 banana shake (Lite Delights).
The space itself, a flight up from street level, has historically been a model of hanging on in the face of change. It was, until recently, the Nolita House, a long-enduring comfort food restaurant. Before that it had been Risa, a well-liked pizzeria, the original location of the Knitting Factory and, primordially, an actual knitting factory.
Mr. Mattos and his co-owners—Thomas Carter, the former beverage director of Blue Hill at Stone Barns, and Botanica owner Mark Connell—have turned the space into a long, narrow concatenation of popular New York interior building materials: exposed brick, scuffed wood floors, artificially aged walls, marble tabletops, glowing globes. The 55-seat restaurant combines the charm of a Nordic monastery with the comfort of a Temple Grandin-designed "hug box."
As for the crowd, it too is of an order: bedouin members of El Foodie. They are well-trimmed creatives, floral-print wonders, low-cut Etsy fuckers, cat-lovers, upstate-house-havers. They're the haves, not the have-nots, but not in an ostentatious way. They just got it. They trot from new opening to new opening, scoring tables like a prisoner scores years, inexorably, or like a monk rounds a stupa, mindless and mindful. Even I, there among them, feel jealous of their long lovely limbs, beauty products and dinner acumen.
I may never have or be those things, but at least the menu at Estela is long, skinny, spare and welcoming. There is little in the way of ornamentation or, for that matter, main courses. Instead, the majority of the offerings are snacks ($5-$12) or small plates ($11-17). There are only four entrees ($22-$29), which squat at the bottom of the page like the unseemly little legs of a long-torsoed man. And yet there's ample room here for discovery. In fact, Mr. Mattos makes sure you can't avoid it.
All that creativity that got him into trouble in Williamsburg—the joyful, almost anarchic juxtaposition of flavors, the ambitious thought/tongue experiments—have here been given room to range. Estela's is a menu of what-ifs and I-wonder-whethers. How would anchovies taste with matzo? How would matzo taste if it were made by a Uruguayan? Step right up to Estela and find out. The wheaty Jewish tuile (more tuile than Streit's, it turns out) moors the anchovy's silvery oily salinity to the land. If only Moses had been so lucky.
That Semitic influence shows up again in a delicate, earthy tahini sauce that lurks under a mess of gem lettuce, whose leaves are nestled into other leaves and scattered with toasted sunflower seeds. Isn't it just like Mr. Mattos to take three snacks for anorexics and turn them into a delicious and strangely substantial salad?
As is evident from the above, Mr. Mattos works best with light flavors—he may be the James Turrell of food, and this might account for the preponderance of small seafood plates. There are many ways to serve scallops, which, like the Eucharist, are mostly made meaningful by what one brings to them. Citrus, in general, is a safe bet. Between his scallops, sliced thinnish and lychee-like, Mr. Mattos intersperses slices of grapefruit, which is nice, but he also adds a few sprigs of bronze fennel, which is better, and dusts it all with Calabrese chili flakes, which is inspired. Bright, simple, subtle, heat and sweet, sea, citrus and frond, the dish proves that inventiveness need not mean over-complication.
In other dishes, this simple touch is layered, textured and repeated. The effect is rather Diebenkornian. On another visit, a chiseled waiter named Devon delivered a new item on the frequently evolving menu. Devon said it was cured arctic char, but it looked to me like a two-tone gourd mosaic. Thin, perfectly sliced coins of zucchini and cucumber were overlapping and almost lacquered together. Under there somewhere, I knew, lurked the great cured arctic char, and like with most of Mr. Mattos's dishes, digging deeper paid dividends. Ahoy, simply cured arctic char, dabbled with yuzu vinaigrette, lurking under slightly pickled, very vegetal vegetables, what were you doing down there? Answer: bundling up Mr. Mattos's love of Japanese flavors with his knack for capturing the delicate balance between earth and sea. Also: being delicious, duh.
Mr. Mattos is a master of gustatory prestidigitation, but like any close-up magician, there are habitual ticks in his madness. His go-to trick isn't obfuscation, as in the arctic char; it's the misdirect. Example: the crispy sun chips cleverly folded into the beef tartare like an ace up the sleeve. Hidden—one wonders, where are the crisps? But the first bite is the prestige; the chips are in the tartare, bro. Another act of inspired misdirection: the phantom char, which appears in the calamari
à la plancha, a big mess of squid, tawny romesco, black squid ink and, just slipping in there, charred onions. Those smoky signal-callers were a slight but important and unexpected addition.
Same trick, different dish: the steak, itself no slouch in the char department. The meat is enhanced with a smoky charred eggplant, which doubles the char but does so eggplantily. This dish, one of the best on the menu, also comes with anchovies, white barley crisped with rendered steak fat, and slightly bitter dandelion greens. The effect is rather like a check hook. Fools rush in, thinking they know, but watch out, the smoke will knock you on your ass.
I wish, however, there were more of those mains. If Mr. Mattos's small plates are acts of expert cardistry, his main dishes are some straight-up David Blaine shit, and I wish there were a couple more acts to choose from. What I wouldn't have given for a few more entrees—though I only mentioned the steak, the pork, hidden under pepper-dusted mustard, is in every way its equal—or for a full-time pastry chef to match Mr. Mattos's up-close magic. (In the interim, Alex Grunert of Stone Barns is helping out, which is great but provisional.)
Menus, like plays, are meant to peak in Act III, with a slow build, an epic climax, a lovely denouement and then lines of blow in the men's room. But at Estela, with its heavy tilt toward small plates, limited main course selection and no serious dessert program, the climax came a little early in the night and drifted, nicely but loosely, toward dissolution.
Surely these things will come with time. For, with an ambition as great as Mr. Mattos's, compromise is not an option.