Take a look at the photo to the left. Now zoom in on the man in sunglasses. Just behind the woman in pink's shoulder. See him? Yeah. Whoops.
A colorful mailer touting mayoral candidate Bill Thompson appears to have made a flub–including what would be the lovely image of Mr. Thompson greeting a smiling little girl–were it not for the guy who seems to be giving the finger to the photographer.
While some who viewed the photo saw the man as innocently adjusting his sunglasses, an informal survey of New York Observer staffers found a strong consensus that believe him to be giving the bird.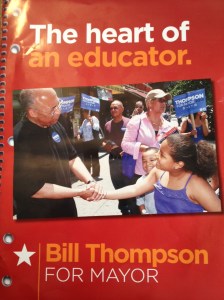 The image can be found in a pamphlet paid for by a soon-to-be well-known group called "United for the Future"–a political committee that appears to belong to the powerful United Federation of Teachers, which is expected to spend millions of dollars touting Mr. Thompson through independent expenditures in the race.
According to filings with the State Board of Elections, the treasurer of the committee, which was filed on July 12, is Paul Egan. Mr. Egan is the director of legislation and political action at the UFT.
The UFT referred questions to Mr. Egan, who did not immediately respond to an email for comment.
A spokesman for the Thompson campaign declined to comment on the mailing, which was produced independently of the campaign.