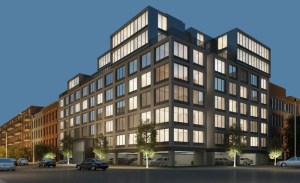 It's not in his policy book, and you might not have guessed it based on his auto-bound outer borough voter base and stance on bike lanes, but Anthony Weiner wants to ease up on New York City's requirements that developers build parking in new buildings.
In video captured by Streetsblog's Ben Fried, he mentioned reducing minimum parking requirements twice at the Tour de Queens, where he tried to convince bike advocates that his comment to Michael Bloomberg that he'd have a ribbon-cutting to celebrate "tearing out your fucking bike lanes" was just a joke. (Unsuccessfully, it seems—as it turns out, the all-powerful bike lobby demands more than just tax credits.)
"Congestion's always a complicated thing," he says while talking about biking. "I have always been in a counterintuitive place for the longest time, that we should require less parking—less parking!—for developers, not more."
Proposing to drop the requirement for developers to build parking in outer borough neighborhoods and Upper Manhattan is a surprisingly gutsy position for a New York City politician to take.
On the one hand, there are conservative voters in neighborhoods with high rates of car ownership—like Kew Gardens and Ozone Park in Mr. Weiner's old district—who dislike anything that will make it harder for them to park. And on the other hand, there are politicians on the left like Steve Levin and Letitia James, who represent areas around Downtown Brooklyn and see lower parking minimums as a hand-out to developers that should only be granted after the city's exacted its pound of flesh, in the form of below-market-rate housing or community amenities.
The real estate lobby, on the third hand, is more interested in allowing more parking to be built than allowing less. Those with political clout tend to build high-luxury buildings in Manhattan, where builders are restricted in the amount of parking they can build; smaller developers who do merely-luxury projects in the outer boroughs don't get as much support from politicians, and are stuck trying to shoe-horn automobile parking onto small sites, even cutting into the number of affordable units to do so.
"I'll put that in my next idea book," he says on the idea to cut parking minimums in another video by Mr. Fried. "You can quote me on it." (We're eager to learn where he proposing dropping the requirements, how far and under what other conditions.)
When Mr. Fried responds, "that's a big deal," the candidate downplays the significance.
"Nah, not really," he retorts. "It's kind of become conventional wisdom now." (True among city planners, but not at all among actual city plans, which tend to lag a few decades behind the prevailing opinions of the profession.)
Mr. Fried then points out that even supposedly car-hating, development-friendly Mayor Bloomberg hasn't eased the requirements (with odd exception of the Long Island City rezoning, we would note, where there are none), apparently to Mr. Weiner's surprise.
"No, no—oh really? Well there's a lot of things that I'm going to do that Michael Bloomberg didn't."