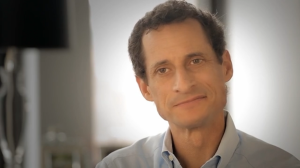 Anthony Weiner isn't going to quit the mayor's race because this is New York.
"I know that there are newspaper editors and other politicians that say, 'Boy, I wish that guy Weiner would quit,'" Mr. Weiner says in a new ad posted on his campaign website. "They don't know New York. They certainly don't know me. 'Quit' isn't the way we roll in New York City."
In the soft-spoken, 1-minute video, Mr. Weiner talks directly to the camera and dismisses his many critics and rivals who have called on him to step aside in the wake of an increasingly circus-like sexting scandal dominating the race's coverage.
"This isn't about me. This is about helping New Yorkers. Because they understand that this is about them. This campaign has reminded me about it again and again–in all kinds of ways," Mr. Weiner offers. "You know, if someone wants to come out with something embarrassing about you in your private life, you got to talk about that for a little while."
"But it's also reminded me that–citizens, when they come up to you, and they want to talk about a situation on their block, or at their child's school or something going on at their job site–that that's what this campaign is all about," he adds.
A Weiner spokeswoman told Politicker that the ad is web-only.
Watch below:
[vimeo http://www.vimeo.com/71370985 w=400&h=300]
Updated (8:22 p.m.): Updated with clarification from the Weiner campaign.