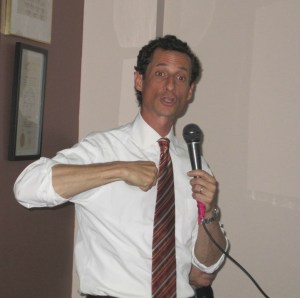 Anthony Weiner continued to plow ahead with his increasingly embattled mayoral campaign this evening, telling the audience at a forum in Queens that he'll be the next man running City Hall.
"You watch, when I become your mayor–like I said, you might not agree with me every day–but every single day when I lay down my head at night I'm gonna be thinking of communities like this," he said during his closing remarks at the forum, which ironically focused on women.
The remarks come two days after revelations that the ex-congressman continued sending lewd messages to women he didn't know long after his resignation and even after he described himself as a changed man. They come just hours after a new poll showed his one-time lead in the race sharply plummeting among likely voters in reaction to the news. The electorate now views him more unfavorably than when he launched his already scandal-scarred campaign.
And, as has been the case since then, Mr. Weiner was trailed by a huge gaggle of reporters and TV cameras, which nearly outnumbered the attendees in the steamy basement of the Voces Latinas office in Jackson Heights.
Mr. Weiner–who has been desperately trying to steady his sinking campaign amid plummeting poll numbers and calls for him to drop his bid–appeared at times drained and agitated, but also more determined than ever. He dominated the question-and-answer period and, when it was his time to speak, did so with even more gusto and conviction than his typically lauded performances, which had helped propel him to the top of the mayor's race.
"New York is a City that represents a ladder–a ladder that lets you pull yourself up. And you come here not expecting miracles. You just want a little bit of help. You want someone who hears your voices," he told the quiet group earlier in his remarks. "You're not asking for a miracle. You're not asking that when one of us gets elected mayor, suddenly milk and honey flows through the streets and the Mets win the pennant."
He later tried to argue that the hits he's been taking should give voters confidence in his own ability to shake up the status quo.
"There are a lot of people in this town who don't want me to get elected. They didn't want me to even run. They don't want me to run now. And what I say to you is that's a good thing to look for someone who's going to be fighting for you," he said.
But in a hectic media scrum outside the building after the forum the focus returned to the scandal. He was pelted with harsh queries. Did he think he was an appropriate role model for children? Had he lied about the number of women he'd engaged with? How did he feel about one of the women confessing she was in love with him?
"I tell you I'm not a perfect messenger for anything. I don't know who is. But I say this, that the issues I'm talking about for the middle class and those struggling to make it, people are hearing it, they're responding to it," he said, repeatedly trying to pivot away from the scandal. "This is an aspirational campaign for moving forward."
"I'm arguing that I'm the fighter that New York needs for the middle class and those struggling to make it," he said, before trying to end the conversation.
As he tried to walk away, he was naturally chased by reporters, breaking into a brief run as he made a beeline to his waiting SUV. But his words did not reflect his actions.
"Alright, take care guys. Thank you all very much," he offered. "Thank you very much, I appreciate it."