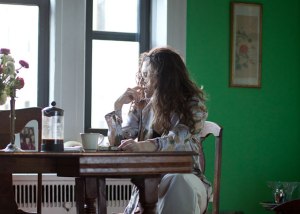 When it comes to matters of the home, Sadie Stein, like a character in a Barbara Pym novel, takes pleasure in the small things. The nerdy-stylish deputy editor of The Paris Review once fell in love with an apartment for its wooden toilet paper spindle. Although Ms. Stein, 32, a former fashion and arts correspondent at Jezebel, admits that she's "made some questionable apartment decisions," they have always been in the service of suiting her old-fashioned tastes. Ms. Stein lives in a big, pre-war apartment building on the Upper West Side and recently gave us a peek inside.
How did you find your apartment and how long have you lived in it?
I moved to my apartment in the fall of 2011. I have family in the building—down the hall!—and they let me know when the space became available. I'd been in Brooklyn for eight years prior to that, so this made for a big change. I was ambivalent about living so far from most of my friends (not to mention, so close to the place where I lived as a kid), but I've come to really appreciate it.
What are the three most cherished items in your apartment?
Hard to narrow it down; my apartment is filled with things I love. But let's see: A mirror my great-grandparents (on my dad's side) brought from Poland; the rag-doll my great-grandmother (on my mom's side) made; and, more recently, a watercolor of some Capri cigarettes that the artist Happy Menocal sent me.
What's your bookshelf situation?
Recently I decided to move all my bookcases—three large ones from Ikea, with no backs (which makes all the difference aesthetically, but also makes them less stable)—from the living room into the hall, to accommodate my piano. Anyway, I got impatient and decided to move them myself. The first two went easily enough, but the third collapsed on my head and knocked me out! Worse, the frame broke and couldn't be salvaged. Since, I've been using this shelf they discarded when The Paris Review moved offices, which is ugly, but gets the job done. And like everyone in New York, I could use twice as much shelf space. Half my books are still at my parents' house.
If you could change one thing about your apartment, what would it be?
I wish cell reception was better: I can only make or receive calls in one spot, by the window in the living room.
There's also a preschool whose yard faces my bedroom window. Normally, I like hearing the kids playing in the mornings, but if you're sick or want to sleep past 8 for any reason on a weekday, well, it's not an option.
Which room do you like to write in? Read?
My desk—the same one I've had since elementary school—is in my bedroom. But the light's much better in the living room, so more often than not I work in there, at the dining room table.
I usually read in this white armchair I inherited from my boss.
Do you have enough space? 
By Manhattan standards, I have a reasonable amount of space. And yet, I seem able to make just as much of a mess as when I had the excuse of a smaller place …
What do you value in an apartment?
The one time I worked with a broker (as opposed to finding a place via Craigslist, or word of mouth) I told him, "I want a place where someone has just died." He was sort of confused. I didn't mean it literally—although, you know, that would have been O.K., too—but I wanted a place that was really untouched and old-fashioned. I'll trade convenience for character any day of the week, and I've made some questionable apartment decisions because I fell in love with a molding, or, in one case, this wooden toilet paper spindle. I tend to disregard considerations like safety or proximity to trains.
When I lived in Bed-Stuy, this massive Victorian convent came on the market; they'd closed it down when the few remaining nuns got too old to live alone. It was, I guess, in bad shape—there was water damage, it needed a new roof, it was full of animals and garbage—but I loved it! There was a chapel, an old-fashioned gas range, stained glass … I toured it again and again, and spent hours imagining moving everyone I knew into it and trying to figure out how I could make the numbers work. (They didn't.) No one else seemed to find it very magical, anyway. The word "creepy" was used.
When I first looked at my current apartment, I felt the building was too young. (It dates from the 1920s.) But I've come to see that there are advantages to places that were built specifically as single residences: the layout makes sense, there's more closet space, the whole thing was done with some intention. I also like not having a landlord on the premises.
Do you think you'll look for another apartment eventually? Or is this the one?
I hope at some point I'll need more space, but it's true that I don't feel restless: if I'm still here in a few years, that's just fine. I haven't yet found the spot that feels like "the one," but maybe most people don't. In New York, anyway.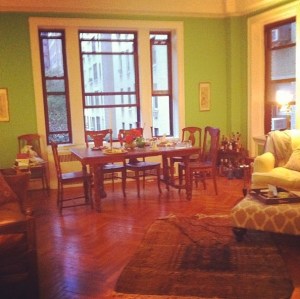 What's your favorite thing about your apartment?
It's funny, in my past homes (which were objectively less convenient) there were things I really loved: like this tiny horseshoe over the back door in the house where I grew up, or the plate rail in my college apartment. Because my current place is a little newer, not to mention part of a big buidling, there are fewer of those sorts of little details. That said, there are a lot of things I like–the proximity to the subway, the nice neighbors, the decent storage space, the good light–so it's more a package deal. Probably the best thing is the proportion of the main room–my living/dining area–which is nice for having people over.
Here's something I like about the apartment, although it's not original: shortly after I moved in, I was visiting my parents and went to a yard sale at an old house that was about to be demolished. I asked the owners if they'd sell me the brass fittings from the bathroom–a cup/toothbrush holder and a soap dish, probably from the '20s or a little earlier–and since they were just going to throw them away, they let me. I put them into my apartment's bathroom. I like to think that it's what things might have been like when the building was first erected. It's a small thing, but it's nice, as a renter, to personalize your space a little. (O.K., technically as a renter you're probably not supposed to drill through tile.)
And in practical terms, the dishwasher! I've never had one before.
How often do you cook at home?
I love to cook and do a lot of it. In the neighborhood where I live, the grocery stores are very good–there's good produce, fish, bread, etc.–and I think better than the restaurants, so it makes sense from every angle. The kitchen isn't very big (it's a standard galley), but the storage layout is smart and there's counter space. But since I don't have an air conditioner, I do much less cooking in the summer, let alone baking.
Is it isolating living on the Upper West Side when so many of your friends live in Brooklyn?
It's true that most of my friends live in Brooklyn or further downtown, and seeing people definitely requires planning. It's fun to live in a neighborhood where you can wander to a nearby bar and run into people you know (well, most of the time!). But as I mentioned, I have family right down the hall–not to mention around the neighborhood and across town, on both sides–so it's not lonely.