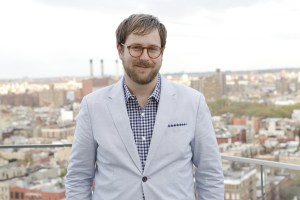 Online auction house Paddle8 has recruited Dave Harper, the Brooklyn Academy of Music's first curator of visual art, as director of special projects and client development. During his six years at BAM, Mr. Harper curated dozens of exhibitions, created multiple benefit portfolios and—perhaps most relevantly—organized seven silent auctions that collectively raised almost $2 million for the museum. BAMart and Paddle8 partnered on an online auction earlier this year.
"Dave brings a rich network of relationships with artists, curators, and cultural institutions, as well as on-the-ground experience creating innovative development models that support the growth and success of non-profits," stated Osman Kahn, founding partner and COO of Paddle8, in a news release.
Mr. Harper's appointment coincides with Paddle8's expansion beyond fine art into collectibles, made possible by the whopping $6 million in new funding from investors that include Damien Hirst, the Mellon family, dealer Jay Jopling and Alexander Von Furstenberg that the house announced last month.