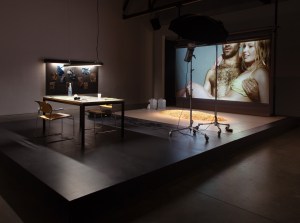 As a teenager in the 1960s, she performed in a dance troupe called The Blue Bell Girls. She trained in Paris and traveled to Monaco, where she met Grace Kelly and Shirley Bassey. She had a pet monkey that she liberated from a market in Bangkok. In Tokyo, her long legs and blond hair attracted catcalls. In Beirut, she danced at the Casino du Liban and met men there. As her son, the artist Simon Fujiwara, remembers it now, she was photographed on the beach in the arms of one "charming and dangerous" Arabic gentleman. She looked "irresponsibly happy."
"I honestly can't remember exactly when I saw this photograph," Mr. Fujiwara said in an interview at Andrea Rosen Gallery, where his mother is the subject of his first solo show in New York. "But I know I'd seen it."
He started thinking about the image last year while on his first trip to Beirut. On the beach by the casino, he said, "I had this uncanny feeling that I'd seen this somewhere before."
It reminded him of "an even sadder version of Vegas." He left disappointed. Before he did, he collected a sample of the water—the locals all talked about how polluted it was—and some rocks from the beach. "There's this sense that water should be pure and your notion of a family history should be pure," he said. "There's a kind of melancholy in the fact that it's dirty."
For his new work, called Studio Pietà (The King Kong Komplex), Mr. Fujiwara has recreated the photograph with two actors who reverse the roles: the woman is holding the man, who is hoisted up on a saddle-like contraption, offering the suggestion of Mary cradling Christ (hence the title). A video reveals his casting process, in which he interviews the actors about their previous roles. The room is lined with pinboards displaying head shots (including those of the rejected actors who auditioned for the parts), scribbled notes and a study of the pollution levels of the water in Beirut. In the center of the room rests a jug of water and a pile of rocks.
Mr. Fujiwara, who is 30 and based in Berlin, has always been his own main subject. His parents, naturally, are his supporting cast. They met at the Imperial Hotel in Tokyo, where his father, who is now an architect, managed an all-Philippine rock band called Superfry.  Mom hated Japan, so they tried London, which made dad depressed.
They saw an ad in a newspaper for a hotel and bar in Spain and bought it on a whim for about 4,000 pounds, unaware that the country was in Franco's iron grip; being foreigners, they were able to create a kind of neutral zone for themselves. Mr. Fujiwara's older brother was born there with a heart condition, which led them back to London, where Simon was born a few years later. (The parents sold their shares of the hotel and, since money couldn't legally be brought out of Spain, lined their older child's oxygen tank with the bills.)
Mr. Fujiwara was baffled by how his parents discussed living in a dictatorship as "happy-go-lucky fun fiction." In 2009, he began his ongoing project Welcome to the Hotel Munber. In it, Mr. Fujiwara sits in an imagined reconstruction of his parents' bar (he'd never seen it firsthand), outlining his attempts to write an erotic novel starring his father as a gay hustler in Spain. The project, which has been shown in Frankfurt, Basel and Toronto, began as a series of dispatches that Mr. Fujiwara sent to gay magazines. One was published in the Manhattan-based Straight to Hell (a k a "The New York Review of Cocksucking," according to its website). The story appeared anonymously in the magazine in 2008, but in his correspondence with his prospective publishers, Mr. Fujiwara used his father's name. (He never really owned up to this until 2012, when he included an image of the published article in his first artist book, though even there, the article appears without commentary.)
"He's never really said anything to me about it," Mr. Fujiwara said when asked about his father's thoughts on the piece. "My mother went to see me perform it. I was kind of worried about what her reaction was going to be. There's a photo in the installation of her holding my brother in front of the hotel. She came up to me after the performance and said, 'How could you show that dreadful photo of me?' That's the only thing she said! She was just embarrassed of having this '70s hairdo."
Making art about making the art in question is something Mr. Fujiwara has been exploring for a while now. The video in his current exhibition shows him conducting a kind of Socratic dialogue with himself about the photograph of his mother in Beirut:
Would you describe the picture as erotic?

No.

Hm. So you did not find the man in the picture attractive?

[No response.]

Could you please read the statement on page 84 of this book?

Okay. 'The King Kong Complex. The King Kong Complex is a phrase that describes a psychological state in which a person or culture at large lives in fear of the notion of a darker-skinned or hairy male individual …
Themes recur in his work, as do entire narratives, like The Mirror Stage, an early performance that has reappeared in several other installations. The piece is a short play about a boy who is based on Mr. Fujiwara at age 11. Mr. Fujiwara grew up in Carbis Bay, a remote fishing village in Cornwall where he would wait restlessly at the post office for his copy of i-D magazine to arrive. (He was perpetually bored—he says that even now, to get anything done, he has to work himself into a similar state of boredom.) In the play, the boy, coached by Mr. Fujiwara, who appears as himself, has a nearly sexual encounter with Patrick Heron's Horizontal Stripe Painting at the Tate Museum in St. Ives—where The Mirror Stage appeared as part of a retrospective last year—and it "changes his life forever," according to the script. "[I]t was because of this painting," Mr. Fujiwara writes, "that I realised two significant things. Firstly, that I wanted to become an artist; and secondly, that I was gay."
The play opens with Mr. Fujiwara and the child actor staging a theater exercise, repeating the phrase "I am Simon Fujiwara" "until it becomes meaningless," according to the stage directions. Mr. Fujiwara then asks the child actor about his life and acting experience, after which he recalls the discovery of Heron's painting. Onstage is a re-creation of the painting. Mr. Fujiwara speaks to the audience directly: "You may be starting to understand that the play deals a lot with fraud and authenticity." He takes the thought even further: "I give my real name in the play," the child actor playing himself playing Simon Fujiwara says in the script, "so am I playing me or you or … Who am I?"
"A theatre play is the lie that tells the truth," Mr. Fujiwara responds. He continues:
The only way you learn to live is by copying others and acting, like learning how to talk, or ride a bike or kiss a girl. It's all acting. Even this now is acting. Even the audience now are acting; they are acting in the way audiences should. And when you realise that there is nothing original or genuine or true, you become free to be whoever you want to be, and this is the greatest lesson you can ever learn. And this, I realise, is what I learned that day when I saw the painting.
The implication is not simply that life itself is a kind of premeditated performance, but that if the line between performance and reality doesn't exist—if a lie says as much about the truth as real evidence does—then the very question of authenticity is beside the point. In other words, whether or not Mr. Fujiwara's mother was really on a beach in Beirut in the arms of a man who wasn't Mr. Fujiwara's father does not matter; by staging it, even in a highly fallacious way, the event is as real as the jug holding the polluted Beirut water.
"We all know this experience of sitting in a restaurant and overhearing your neighbors," Mr. Fujiwara said at the gallery. "We hear these conversations like, 'Oh, I'm meeting my ex this weekend and we're going to his house in the Hamptons.' And the other person is like, 'Oh my God, that's going to be so hard for you.' And the other person says, 'Well, I'm in a really good place right now; I've thought it all through. I've dealt with it all, and I'm ready to go and to meet him again and go to this party.' I think it's such a complex and beautiful moment we're in, where people can discuss feelings and propose future scenarios in a way that is so decided and scripted that there's not even a desire to have an emotional risk. Everything can be resolved in advance. You can be a walking ghost, in a way, a puppet version of yourself."
With this in mind, even the obligatory legal disclaimer prefacing the catalog for Mr. Fujiwara's retrospective at the Tate St. Ives, called Since1982, referencing the year of his birth, is a carefully staged performance: "The stories, names, characters and incidents portrayed in this publication are fictional. No identification with actual persons, places, buildings and products is intended or should be inferred."
mmiller@observer.com