Water. Wind. Sun. Humidity. Sand. None of these conditions are good for watches—but that doesn't mean you're not going to wear yours to the beach. It just means that the watches you wear have to be highly engineered. Fortunately, there's one out there for every beach lover in your life.
The Yachtsman: Standing at the boat dock and looking wistfully out to sea, this seasoned sailor was likely dreaming of the upcoming America's Cup. The Commodore (as he secretly delights in being called) was sporting Hublot's limited edition Classic Fusion Chronograph ($9,500), created to mark the occasion of the 75th Mirabaud Sailing Regatta. This watch is strong and functional—the case is polished titanium, the dial is carbon fiber, and the strap is black carbon fiber sewn onto black rubber. It is water-resistant to 50 meters, and the countdown timer is easy to manage. Remember—the very name "Hublot" means "porthole."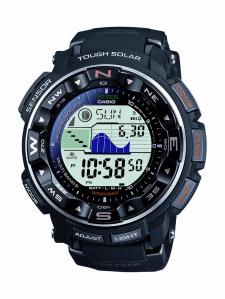 The Fisherman: Just back from a day of deep-sea fishing and very proud of his catch, this price-conscious fisherman was wearing a Casio PRW2500-1 ($300). His watch has a compass and thermometer, graphs the tides (to show where
the fish are flowing and to help keep your boat from running aground), and is water-resistant to 200 meters.
The Surfer: The shaggy-haired surfer dude had his own fine timepiece to monitor the tides—and waves. His super durable Ripcurl Ultimate Titanium Tidemaster 2 ($750) has a tide system that can be set to thousands of beaches worldwide, plus pre-programmed moon phases. It's been depth-tested to 200 meters.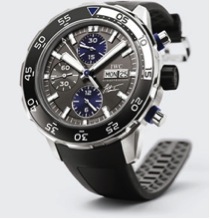 The Scuba Diver: This guy wishes he was in the Caribbean; the diving just isn't very good off New England. You'll find him sporting the IWC Aquatimer Edition Jacques-Yves Cousteau ($6,029), introduced in 2010 to honor what would have been the ocean adventurer's 100th birthday. This watch is pressure-resistant to 12 bar, luminous in any visibility including night diving, and secured to the wrist by a black rubber strap so it can be worn over a wet suit.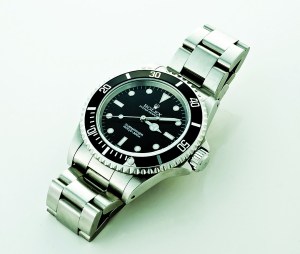 The Pool Partier: Not everyone has to be engaged in a sport on the beach. Walking along the sand, wine glass in hand, or enjoying clam and lobster bakes are great alternatives. Our party person was a tall twentysomething scion of a fine family (we could tell by the red pants). Ever the traditionalist, he was wearing a Rolex Submariner ($8,550). A quintessential diver's watch, it is rugged and water-resistant to 300 meters. It should be able to manage any conditions the beach offers, including butter dripping from a lobster claw.
Robert Velasquez is a horologist consulting for watch manufacturers, retailers and private clients. He specializes in Patek Philippe as well as other high-end watch brands and vintage watches. He was formerly of the Patek Philippe North American Salon, residing at the flagship Tiffany & Co., and a National Trainer for Tourneau.