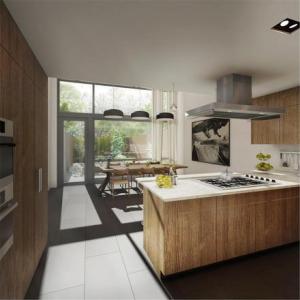 "Why is everyone so hung up on the East Village?" asked Ben Shaoul in his big New York Times profile last year. The controversial developer may be best known for his East Village conversions and his sometimes-rocky relations with his rent-regulated tenants, but that doesn't mean him and his partner, Marc Ratner, don't dabble in higher-end West Side real estate from time to time.
Like, for example, the townhouse at 450 West 25th Street. The duo, operating under Mr. Shaoul's Magnum Real Estate Group, picked up the property last year for just $2.7 million from painter Christine Amarger, before embarking on a complete gut renovation of the home.
"It was a very traditional house," said listing broker Leonard Steinberg with Douglas Elliman (who has the exclusive with his partner, Hervé Sénéquier), "with a nondescript façade. Any original detailing, if there had been any, was stripped."
"They basically rebuilt the entire house," he told The Observer, which has been given a steel gray brick façade and was "entirely rebuilt, repurposed, recalibrated." Why "recalibrate" the floors? we asked naïvely. "To maintain good ceiling heights on all floors," Mr. Steinberg patiently explained to this outer-borough apartment-dweller, "you cannot keep traditional floor heights."
And the garden! Oh, the garden! (And, of course, the double-height great room and its massive back windows from which to view it.) "This is a south-facing house—it faces onto what has to be the most beautiful garden blocks in Manhattan. Most people don't know this unless they eat at Bottino. It's gorgeous, gorgeous, gorgeous, with monumentally scaled trees." (The view from the front is a bit less serene—the Chelsea-Elliot Houses greet you as you walk out of your front door. But then again, that didn't stop Christine Quinn from buying around the corner.)
And what will the Wayne Turett design set you back? $10.75 million.
"Avenues comes to the neighborhood," Mr. Steinberg said about the new for-profit international school that's barely a block from the townhouse, "and everything changes forever."
So has Mr. Steinberg shown the house to any Avenues parents?
"I'm not allowed to talk about familial status," he said, "or else I go to broker jail." (Where, we imagine, none of the floors are properly calibrated.) "Someone in Albany had nothing better to do, no other problems in this state except discussing familial status when selling property."