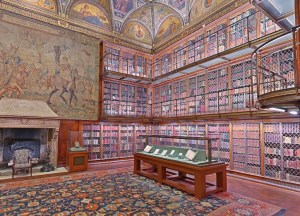 "When did J. P. Morgan die?" asked a guest at the Morgan Library and Museum's Young Fellows Summer Cocktail Party, who, if not exactly young himself, had been trying to make the younger elements of the party feel at home, particularly the women.
"I mean, I worked for J.P. Morgan," he said, setting a fairly full glass of brown liquor on a waist-high table. And yet he couldn't remember whether the investment bank's namesake – and the man whose property he was standing on — had lived to see the Great Depression.
He had not. J. P. Morgan the industrialist has been dead for just over a century, and so he has missed everything from The Great War on through the Depression right up to our most recent panic of 2007 and even last night's cocktail party, which was held more or less where his house used to stand at 36th and Madison Avenue. The fresh-faced guests mostly mingled in the Renzo Piano-designed hall that ties the old buildings, and their books and art, together, their chatter drowning out a string trio that played in the corner.
A modest evening, though talk at our table soon turned immodest.
"Let's be honest, we're here for the pussy," said the man who, not long ago, had seemed to be here for the history. In rapid succession he called himself a "rainmaker," claimed to be a financier for independent films (saying, in fact, that The Bling Ring was "his" film even though his name is not listed on the IMDB page), called John Casablancas a "genius," badmouthed one particular socialite for like 20 minutes, praised Giorgio Armani for making his own chairs and pasta sauce, and said he saw The Strokes play a three-hour set at Tommy Hilfiger's 25th anniversary party in 2010.
The majority of the Fellows, their friends, and people who actually work at J.P. Morgan in attendance were not like this man. For the most part they actually were young. Co-chair Kathleen Runde Sullivan, who is married, told us that other Morgan fundraising events had been confined to the library proper, but to cram all the guests into that area would have broken fire code. You could still bring your drinks into some of the exhibit spaces, and, folks, it's a lot of fun to look at a Gutenberg Bible with a glass of Maker's in your hand.
A young lawyer named Owen, who wore a seersucker suit, explained that events like the Young Fellows party are part of a progression that begins with debutante balls, continues through Young Fellowship, and eventually involves a more mature form of charitable support. He also told us a fun story about a horse that crapped on the hardwood dance floor during a debutante ball at the Waldorf Astoria. Although the staff had cleaned up the poop as fast as possible, he still had to dance through the smell of manure.
A woman who insisted on being called "Grace Cho," characterized the scene as a "set of young professionals" that constituted a "different tier of people" from those one might find in the New York bar scene.
Was she considering membership?
"I'm noncommittal to my charities," she said, observing that other organizations create more impact per dollar donated without spending money on social events like the Summer Cocktail Party.
Some of the guests did express interest in the library. A petite young woman named Dara not only knew who J. P. Morgan was, but also said she was surprised at the romanticism of the capitalist's private library, given his reputation for pragmatism. She said she was curious about the Latin inscription on the mantelpiece in J. P. Morgan's library.
(I looked it up: "As Tantalus is ever thirsty in the midst of water, so is the miser always desirous of riches.")
A non-member, Dara was a little embarrassed to admit that she had arrived as part of a MeetUp group and had stopped to chat to break up her search for someone named Amanda, whom she had never met in person.
Flirting occurred. We overheard a young man named Josh conspiratorially propose to two women that they could "solve this problem, here, tonight." The young women laughed. By the end of the evening, Dara showed no signs of having met Amanda, but she had struck up what looked like a promising conversation with a young, dark-haired man wearing spectacles.
We asked a group of three married young men whether the party was, as the rainmaker had claimed, all about the pussy. Although there are some Young Fellows of a certain age who may go in for that kind of thing, one of them said, "this is a library that appreciates funding and events, as well as patrons. I'm a patron," before excusing himself and his friends.
As we made our way toward the exit at 10:30, we passed by the rainmaker, who introduced us to two tall, thin blond women. They looked a little bored.