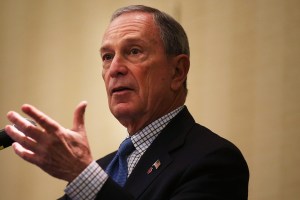 At one point in the mayor's race–not too long ago, in fact–Bill de Blasio was focused on Council Speaker Christine Quinn and convincing voters that he was the "clear progressive alternative to her." But after Ms. Quinn tumbled in the polls, Mr. de Blasio's messaging became significantly more complicated.
The city's public advocate is hoping the issue du jour, dual City Council bills that install an NYPD inspector general and expand the definition of police profiling, will now help cast him as the progressive alternative to not only Ms. Quinn, but former Congressman Anthony Weiner and former Comptroller Bill Thompson, as well. (Ms. Quinn's loss has been Mr. Weiner and Mr. Thompson's gain. Both are  now within the margin of error of her in the latest public poll.)
Accordingly, although Mr. de Blasio regularly holds press conferences condemning Mayor Michael Bloomberg, he used some of his sharpest language yet today as he criticized the billionaire mayor for considering the use of his massive personal wealth to pressure council members into flipping their votes on the profiling bill.
"This is déjà vu all over again, Michael Bloomberg threatening to use his power and money to subvert a City Council vote for his own purposes," Mr. de Blasio told reporters at a press conference outside his Brooklyn campaign headquarters, connecting the issue, as he is want to do, to the term-limits fight in 2009. "I emphasize, some of my Democratic opponents are aiding and abetting him in this process. Speaker Quinn voted against the racial profiling bill … That's one of the greatest contradictions I've heard in a long time: She says she won't help him pull more votes his way, but she'll keep voting against it. So she is just as guilty as him."
Mr. de Blasio quickly added that his "other Democratic opponents are only helping strengthen the mayor's position" by stating their opposition to the bills. He specifically name-checked Mr. Thompson and Mr. Weiner.
"So the amount of contradiction and hypocrisy among the Democrats is astounding here," he said.
It's worth noting, however, that despite Mr. de Blasio's claim that it is "abundantly clear" that Mr. Bloomberg will spend big bucks on Council races, the mayor himself has said no such thing. A New York Post source said he was "willing" to invest but did not promise to do so, and at a press conference this morning in the Bronx, he would not confirm his intentions.
"I don't know," Mr. Bloomberg said when asked. "We'll see what I'm going to do. The bottom line is–I make no bones about it–I'm telling you I am going to support those candidates. I'm certainly going to talk about it."
For her part, Ms. Quinn told Politicker that she doesn't agree with Mr. Bloomberg's wallet getting involved.
"You know, look, people are free to lobby … the Council. Just because you're the mayor, you don't lose that right. I mean, God knows you have the right to make your point to Council members. I hope the discussion stays on the merits of the legislation," she said. "That is the way the conversation should stay. It should stay in a governmental context, not an electoral context."
Pressed on the spending aspect specifically, Ms. Quinn flatly stated, "I don't think money should be involved in lobbying council members. No, of course not."
How effective a Bloomberg ad campaign would be at flipping votes on the two bills is another question.
Thus far, at least, council members appear steeled in their positions. Councilwoman Sara Gonzalez, who is facing one of the most serious re-election challenges across the city, sent out a statement applauding the NYPD but declaring she "will proudly cast my vote to override Mayor Bloomberg's veto." And Councilman Mark Weprin, a potential speaker candidate who was called out in the Daily News yesterday, issued a lengthy statement touting the diversity of his district and castigating police profiling as "an insidious, corrosive tactic."