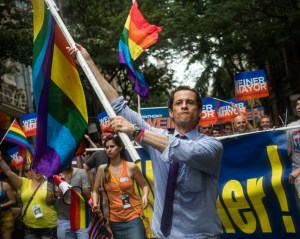 Joining former Councilman Sal Albanese and businessman John Catsimatidis, Public Advocate Bill de Blasio is calling on Anthony Weiner to exit the mayor's race in light of today's sexting allegations.
"[T]he sideshows of this election have gotten in the way of the debate we should be having about the future of this city," Mr. de Blasio said in a statement. "And yes, I'm talking about Anthony Weiner. Enough is enough. I'm calling on Anthony to withdraw from this race — for the good of the city that I know he loves as much as all of us."
If Mr. Weiner were to drop out of the race, Mr. de Blasio said, more substantive issues could be addressed.
"People are hurting in this city. They are looking to this campaign for a mayor to address the issues they care about — how you find a job that pays a living wage, how you educate your kids, how you find a home that you can afford," he declared.
Mr. Weiner has scheduled a 5 p.m. press conference in Manhattan where he will presumably address the allegations.