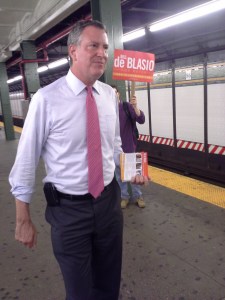 Stumping in a sweltering Brooklyn subway station this morning, Public Advocate Bill de Blasio brushed off the emerging chatter that his mayoral campaign, once launched with such promise, is stagnating.
"I never expected to be a front-runner for one day on this race. This was always a grassroots effort and that's what wins," Mr. de Blasio told Politicker on the platform. "There's so many examples of the insurgent who works hard winning in the end. That's the model that's been shown over and over again."
With the aid of the Bay Ridge Democrats, a local club that has endorsed his candidacy, Mr. de Blasio plunged underground to campaign into Bay Ridge's busiest subway station on 86th Street. As the wide open Democratic primary races towards its seemingly chaotic climax in September, Mr. de Blasio, staking himself out as the viable left-wing alternative to candidates like Council Speaker Christine Quinn and Bill Thompson, is making his pitch.
As aides passed out colorful literature–they began with black and white leaflets that he quietly complained were not up-to-date–Mr. de Blasio sought to rope as many people as he could into conversation, with varying degrees of success. Shaking hands and asking for support, Mr. de Blasio would also often query people on the platform about whether they had given any thought to the mayoral race.
Many had not, and Mr. de Blasio would smile. There was an opening.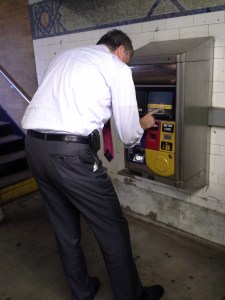 "For people like me who follow this stuff obsessively, that kind of thing matters, but the average voter isn't paying attention," said Justin Brannan, president of the Bay Ridge Democrats. "He's the only candidate talking about income inequality and these are real issues … He's the only guy talking about that, the tale of two cities, that's real, that's true."
Per chance, Mr. de Blasio–who first established himself as an operative with the 1989 David Dinkins campaign that deposed incumbent Mayor Ed Koch–even met a volunteer from that electoral effort. When the ex-Dinkins volunteer said her name, his eyes lit up.
"What's your last name?" he asked
"Tobier," the woman, Elizabeth Tobier, replied.
"Yes!" the public advocate exclaimed. "Oh my God, this is like a flashback. I remember you because of that name, I remember even how to say it the right way. Not Tobi-er but Tobi-ey."
Mr. de Blasio turned to his aides.
"She can attest to how grassroots that campaign was. We were like shoe-string," he said.
"That's why when I talk to people about you, I say, 'You don't know what integrity this man has, you can trust him absolutely,'" she said. "You know, you worked, even before the Dinkins campaign, you've been like, since you were an infant–"
"I came out of the womb with a leaflet in my hand," Mr. de Blasio said, laughing.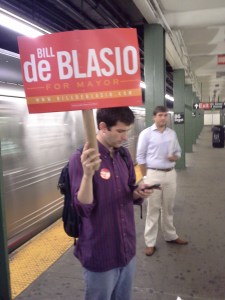 Most conversations weren't that long, limited to a handshake and a plea for support. A Staten Island musician promised he could corral DJ and music industry friends to make a rap video for Mr. de Blasio, the prospects of which excited the father of two. If commuters, many unfamiliar with Mr. de Blasio, wanted to know more, he would take his red glossy leaflet and point to his most popular platforms.
"I want to do a tax on the wealthy … that'll make a huge difference," he said, his six-foot-five frame stooping to converse with a commuter.
At one point, in the middle of a conversation with Politicker, Mr. de Blasio bolted, hustling to the foot of the stairs to talk with an elderly black woman. After she expressed an interest in healthcare and hospitals, Mr. de Blasio excitedly told her about his high-profile arrest last week.
"Yes, I got arrested for the save Long Island College Hospital protest!" he said as she headed up the stairs.