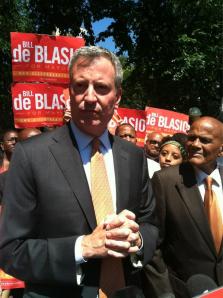 Mayoral candidate Bill de Blasio ramped up his push this afternoon for minority voters, rolling out endorsements from Congresswoman Yvette Clarke and Caribbean singing legend Harry Belafonte.
Towering above his peers as he spoke in lower Manhattan today, the city's public advocate addressed one of the larger crowds he's seen on the campaign trail as if he had already won the September 10 Democratic Primary, thanking everyone who has supported him thus far as he added the new names to the list.
"I am pleased and honored to stand before you today endorsing Bill de Blasio for the next mayor of the City of New York," Ms. Clarke, who is of Jamaican descent, declared. "Bill de Blasio literally stands tall in this race among peers for the mayor of the city of New York."
"We are on the side of Bill de Blasio," Mr. Belafonte added, referring to the batch of de Blasio supporters waving signs behind them. "We encourage all of our citizens to pay attention and put him in as our next mayor."
But it was not Mr. Belafonte's singing career that Mr. de Blasio wanted to highlight. Mr. de Blasio needs to make significant inroads among nonwhite voters to win the Democratic nomination and he's hoping that Mr. Belafonte's civil rights cred will help him do precisely that.
"Harry Belafonte is an American civil rights legend," he told Politicker. "He's one of the great civil rights leaders of the last sixty years. He's a voice of conscience and I'm very proud to stand with him and you could see the response."
Mr. Belafonte similarly struck a much more serious note when the NYPD's controversial stop-and-frisk policy was brought up by the media. Discussing the shooting of 17-year-old Trayvon Martin in Sanford, Florida, Mr. Belafonte said a Mayor de Blasio would address policing and profiling issues in the five boroughs.
"What's going on in Florida is not just a local issue, it's a national issue around the country including here in New York," he said. "I think de Blasio, and what we're talking about him fixing the politics of New York, [would] step into that fray."
Mr. de Blasio also took a whack at rival Bill Thompson, the only African-American candidate in the race, for his impassioned speech last Sunday criticizing stop-and-frisk as racial profiling while simultaneously opposing the City Council's controversial bill to strengthen the city's racial profiling laws.
"Racial profiling happened in Florida. Racial profiling is happening here. It's unacceptable in both places," Mr. de Blasio told Politicker, his voice rising. "The incidents were different, but the reality is the same. If you believe that then take the next step and be in favor of a ban on racial profiling."
"You need to make sure that you're connected to the people before you start making comments and decisions because you're not connected to New York," Councilman Andy King, a de Blasio supporter, piled on. "And this flip-flopping doesn't help us in New York."
As Mr. King finished speaking, the crowd began to chant "hypocrite," at Mr. Thompson.
Mr. Thompson responded to Mr. de Blasio's inflammatory remarks in an email to Politicker.
"We don't need cheap showmanship from Mr. de Blasio to fix stop and frisk abuse, we need leadership, and that's what New Yorkers will get from me," he wrote in a statement. "It takes a new Mayor to reform stop and frisk and end racial profiling. And when I'm Mayor, I'm going to keep people safe and protect their constitutional rights. Period."