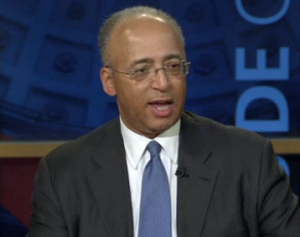 As former Gov. Eliot Spitzer fights speculation he won't have enough petition signatures to make it on the ballot, former Comptroller Bill Thompson has nothing to fear. The mayoral contender has amassed more than 75,000 signatures to appear on the Democratic primary ballot, his campaign is announcing today.
That puts Mr. Thompson, who has the backing of the Brooklyn and Bronx Democratic county organizations, as well as the powerful teacher's union, far ahead of his challengers, including early front-runner and City Council Speaker Christine Quinn. Her campaign, which has flooded the city with volunteers and unpaid interns, reported that she would submit 46,710 signatures earlier this week.
That total also bested City Comptroller John Liu, whose eager team amassed 65,000 petition signatures, and Public Advocate Bill de Blasio, who was expected to file approximately 60,000 petition signatures with the Board of Elections, collected by his own army of unpaid volunteers.
Former Congressman Anthony Weiner, meanwhile, said he has collected about 50,000 signatures.
"These results and overwhelming support … in all five boroughs are really a testament to Bill's strong grassroots campaign," Bronx Assemblywoman Vanessa Gibson said during a conference call with reporters Thursday afternoon confirming the totals. She noted the team had collected nearly 50,000 in Brooklyn—more, she was careful to point out–than Ms. Quinn campaign collected city-wide.
While the mayoral candidates only need to collect 3,750 valid signatures to appear on the ballot, they typically collect many, many more–both as a symbol of operational strength as well as to stave off challenges seeking to invalidate many names they collect.
Brooklyn Assemblyman Walter Mosley, another Thompson supporter said that, in addition to serving as a sign of organizational strength, the effort, which relied on door-to-door contact, was also intended to help build Mr. Thompson's grassroots operation and spread his name at a time when many voters still aren't paying much attention to the race.
"We have to put his name out there and make sure we have people who are at the grassroots level putting his name in the air," he told reporters, describing the election as a football game. "This was like the opening quarter of a four-quarter game."
Candidates have until tonight to amass their final names.
Updated at 12:48 p.m. with details from the conference call.