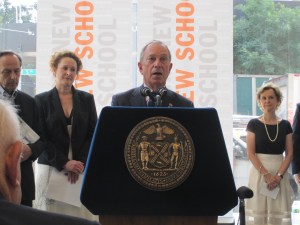 Mayor Michael Bloomberg sharply defended the city's emergency response system today, one day after an outraged City Council Speaker Christine Quinn was compelled to personally call Police Commissioner Ray Kelly for help after an intern fainted in the heat.
"Make no mistake about it: Every call for medical assistance we treat as important. But ambulance dispatching is about prioritizing, so life-threatening emergencies are responded to first," Mr. Bloomberg told reporters during a press conference today at The New School discussing new measures to encourage people to use the stairs instead of elevators.
That means, he said, that "a choking child, cardiac arrest or chest pains take precedent over non-life-threatening injuries," including "a patient who's breathing, alert and communicating, which is exactly what was reported yesterday. The young lady apparently fell, did not hit her head and was awake when asked by the dispatcher. So when we have to dispatch an ambulance that's not going to be the highest priority if there is someone who is choking or can't breathing or is having a heart attack."
He noted the city received nearly 4,000 calls for emergency assistance yesterday and logged an average response time of 9:44 for life-threatening injuries and 15:17 for non-life-threatening ones–about two-and-a-half minutes longer than usual–despite having an extra 14 ambulances on the roads because of the heat.
"The bottom line is, the decisions made were the right decisions," Mr. Bloomberg maintained, arguing that the intern shouldn't have received any special treatment just because she was with Ms. Quinn. "Everybody should get the same service whether or not you happen to have somebody who knows the police commissioner on a first name basis and has his cell phone number."
Politicker asked Mr. Bloomberg whether–given his defense of the response time–he felt Ms. Quinn had over-reacted by reportedly dialing both Police Commissioner Ray Kelly as well as the fire commissioner to come to the intern's aid.
"I don't know," he responded tersely. "All I know is the young lady's alright. And in looking at it today, our emergency response personnel, whether they're call takers, or processors of software or drivers or men and women who were in the back of ambulances, police cars and fire engines and trucks, they do a spectacular job. Their response time is better than any place else."
He further criticized Steve Cassidy, the president of the Uniformed Firefighters Association, who today announced the union plans to ask a judge to stop the city from using its "deadly" new 911 dispatch system, and accused the city of taking nearly 12 minutes to response to a 5-alarm fire this morning in the Bronx.
But Mr. Bloomberg insisted Mr. Cassidy had misread the call sheet and that the response time to today's fire was under five minutes.
"He's a smart guy and he should be ashamed of himself," Mr. Bloomberg railed.
Mr. Cassidy's spokesman shot back, saying, "Every second and minute wasted due to the continuing problems with the UCT 9-1-1 system jeopardizes the lives of New York's Bravest and we will fight until the system works correctly and efficiently."