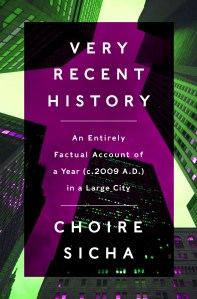 The first book by Choire Sicha, a former editor at Gawker and The New York Observer, is, according to its subtitle, "an entirely factual account." The book, titled Very Recent History, follows "John," no last name, as he frets over his finances. He meets his co-workers at a bar and announces, "Drinksies!" whenever he's ready for another round. He sleeps with—or talks about wanting to sleep with—numerous young men in his social milieu, one of whom "had huge ears and skin like a glass of milk and was pretty." Meanwhile, the company where John works—"a corporate entity that was privately owned" and does not earn "more than they spent"—is undergoing a personnel change. John's boss, "Thomas," and the unnamed owner of the company—who eventually marries "a princess, of sorts, though technically she was becoming her own king"—"did not particularly get along, although they said they did to anyone who asked." The owner fires the cleaning lady. Thomas leaves the company and is replaced by "Timothy," who attempts to run the business with his second in command, "Jacob," who both eventually leave. John also leaves, to work once more with Thomas at a different company. Amid all these transactions, John falls in love with "Edward," and the book works up to a climax in which the two men can—finally and without distraction—spend some time alone together. The book's thesis arrives quite early, though. Sex, money, employment, friendship, love: "Almost everything in the City was capital."
The plot of Very Recent History is a small progression in an individual's life. Stranger is the book's structure. There are seemingly endless stylized contrivances, communicated by a judgmental omniscience: "Taxes were a percentage of everyone's earnings that paid for everything the government bought or built or wanted to maintain," "'dollar'—the name for a currency unit equal to one," "sex was a very unsatisfying practice at this time," and so forth. Taxes and dollars and sex eventually give way to descriptions of more specific banalities. "A TV was a thin device for displaying broadcasts sent by corporations." Taxis "[were] the cars with drivers for hire." The conceit starts to lag quickly, though it becomes hypnotic after a time, and the overwhelming specificity of all the provincial details that make up life at a given moment ("c. 2009 A.D.," also according to the subtitle), and especially the use of the past tense, lend the book the icy feel of a post-apocalyptic science-fiction narrative, some kind of record from the future of a world that no longer exists. There's an overwhelming feeling of generational culpability in this loss.
Buffering these details is intentional vagueness. The setting is referred to only as the City, though it is very much New York City. In fact, I can think of few descriptions of New York as on the nose as this, which appears on the first page:
More than eight million three hundred thousand people lived in this city then, but, by any sane criteria, only a few hundred of those people mattered to any single one of the others. One or more sex partners. The woman behind the counter at the nearest deli. Colleagues and coworkers, if the person in question was employed. The friends acquired along the way, like white hairs on a black sweater, from compulsory public school or discretionary college.
The mayor of this city is simply Mayor, though he is obviously Michael Bloomberg. The thread holding together this wandering book is the Mayor of the City running for office a third time, even though that isn't allowed. Mr. Sicha quotes verbatim Mr. Bloomberg's announcement from October 2, 2008, in which he said he would seek a third term because "I don't want to walk away from a city I feel I can help lead through these tough times." The recession, which kicked off with the subprime mortgage crisis in September 2008 and peaked in October 2009 with the highest unemployment rate in a generation, provides the book with its time line. Mr. Sicha never uses the word "recession," calling it instead a "contagion." "John" is merely "employed" at a "job."
It is unavoidable for me to mention that the "job" is very clearly at The New York Observer, for which I began working as an intern in the fall of 2009 and so am in the bizarre position of having witnessed certain events that are documented here, mostly hirings and firings, all of which are kept ambiguous; Mr. Sicha never mentions what industry the "job" is in, and it is never made explicitly clear that it is journalism. The original title of the review you are reading was "Full Disclosure." The intention was to call up the pseudonymous—and sometimes not—characters who populate Mr. Sicha's book, many of them writers and editors I have worked with in some capacity, and to ask them how they felt about having the journalistic tables reversed. In certain New York media circles, a current staff member of The Observer calling a number of former employees and asking them to talk about Mr. Sicha's book is an act of journalistic treason. Those who did respond "couldn't believe" that anyone had assigned me this piece.
Rather than perform the dull task of compiling the real identities of Mr. Sicha's characters, which anyone with access to Google could accomplish, I want to consider in broader terms the line between fact and fiction in his book, which is an exemplary entry in—and in many ways a blistering critique of—a style of writing I think of as post-fiction. This writing represents a chiasmus between the real and the made-up, blurring the two into nonrecognition, confronting a reader with all those issues one is trained by the Western academy not to look for: namely, the author herself, hiding behind the words. It has more in common with the epistolary novels of the 18th century than with Don DeLillo. Among the writers I classify as purveyors of post-fiction are: Sheila Heti, whose How Should a Person Be? presumably includes actual transcripts of conversations between the author and her friends (all of whose names have not been changed); Lydia Davis, who has written stories about how she wrote her own earlier stories; Tao Lin, whose novels convey more about their author's public persona with the word "and" than most memoirists do in hundreds of pages; Ben Lerner, whose first novel, Leaving the Atocha Station, in its remarkable verisimilitude (our hero takes a shower, smokes a cigarette, reads the paper, etc.), is an epic about being bored ; and Chris Kraus, author of I Love Dick, which stars Chris Kraus writing a series of fantasy love letters and diary entries to a man—Dick Hebdige, with many attributes changed—that she eventually sends to him in the novel and in real life.
Though the marketing team at HarperCollins is peddling Very Recent History as straightforward nonfiction, I will add Mr. Sicha to this list for his willingness to invert the novel-as-nonfiction paradigm. There is ostensibly nothing that isn't "true" in Very Recent History, but I wonder at what point an omission isn't a blatant gesture toward the fictional. The book is incessantly reckoning with a kind of burden of proof, questioning its own status as a factual account. For example, after pages and pages of unemployment statistics, debt figures and salaries, Mr. Sicha writes, "The countrywide contagion, as the Mayor had suggested, did seem to be ending. At least, people couldn't sustain their attention on it. It wasn't that everyone had a job again though. The panic had been half real, half imaginary." Or simply consider the subtitle in full—"An Entirely Factual Account of a Year (c. 2009 A.D.) in a Large City," which has, embedded in its hyperbole, a winking suggestion that the facts of any history book are too often taken for granted, as is the fictionality of a novel.
And yet Mr. Sicha's journalistic pedigree is impressive (even if the book's "About the Author" section is, somewhat characteristically, self-effacing: "he has written for the New York Times and the Los Angeles Times as well as a suspiciously large number of magazines exactly one time"). For instance, in a 2010 story posted on his Tumblr, Mr. Sicha reports—in grim detail—his memory of avoiding a trip to the dentist:
When I was working at The New York Observer, one day I had a strobing, magnificent pain in my mouth during lunch and I figured I'd shattered a tooth or maybe even a tooth had come out and shattered another tooth. This would be, I would say, spring of 2006, but as anyone who writes about their recent history can understand, I could be off by a few seasons easily … As I recall, at the time, everyone at the paper was having a problem with a tooth or teeth. In my false memory, we all passed around tooth ointments and salves constantly.
These sentences, like much of the writing Mr. Sicha publishes every day on The Awl, the popular website he co-founded in 2009, appear to be simply tossed off, his language passive in a way that borders on apathy, but I believe he knows exactly what he's doing. The Awl is a working satire of the Internet, updated every hour or so. A post about the end of Google Reader, for example, carries the headline, "Coffin Closed." (My favorite recurring post links to National Enquirer-style stories and takes on the following construction: "Is this the world's biggest                                               ? Sure. Why the hell not?") Likewise, there is a kind of doubt presented in the so-called truth of reported events in the above writing. Mr. Sicha reports his "false memory," where a lesser writer might just present the story at face value. There is a suggestion here that journalism, like any other form of narrative writing, can't help but be several layers removed from reality—at best mimetic, even as certain details are presented as fact. He critiques journalism even as he plays by its rules, which furthers the book's novelistic tone. (Very Recent History was the first book I've read in a long time that actually made me pull from my shelf my old copy of Mikhail Bakhtin's The Dialogic Imagination, the standard definition of what a novel is, which argues that there is no standard definition of what a novel is, referring to the genre, as one might refer to Mr. Sicha's writing on a whole, as "both critical and self-critical.")
So this, to me, on the surface, is a book about being a journalist for The New York Observer. That Mr. Sicha maintains a careful level of uncertainty in his work of nonfiction—that New York City is just City and could therefore be anywhere, that the gig at a weekly newspaper is just a job and could be any job—means that the book is for anyone who has ever been young and poor and hated his boss. But all the equivocal details make the book highly personal; the reader will fill in the gaps on his own terms.
With that in mind, here is what I have been putting off, my full disclosure of the year 2009, which, as far as I can remember, is entirely factual:
In April 2009, my childhood home in Detroit, where I had lived until I left for college in New York and where my parents were still living, went into foreclosure. I flew home during spring break that year—my last at college—and sat with my parents and a man from the bank in our living room. He wore a beige suit, was not terribly older than me and explained to us what was about to happen. The walls of the room were adorned with photographs of me and my older sister as children, and I remember feeling embarrassed that the stranger who I believed was setting fire to any evidence that I ever had a childhood could openly gaze at numerous pictures of me in a Snoopy T-shirt. Soon my mother became so upset she had to leave the room. The man continued talking. It was all over in about 20 minutes, and he left, but not before asking for a glass of water, which my father gave to him with a sad smile. Outside it was very sunny. By the end of May, my parents had driven to my commencement ceremony at New York University with nearly everything they owned in tow. My mother had deemed the action figures I had not played with since I was 10 and the Fischer Price tricycle that had languished in a moldy corner of the basement for almost two decades, among countless other trivialities, worth transporting the 600 miles from Detroit. I was angry at the irrationality of this at the time, but thinking back on it now nearly brings me to tears. She could not make herself let go of anything. With time, these events became less painful, and that September I began working for The New York Observer. The job was, at least at first, unpaid.
mmiller@observer.com