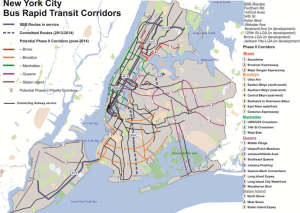 Given the mind-boggling costs and glacial pace of building new rail in New York, transit advocates have turned their attention to a less exciting mode that they say can be rolled out much more quickly, and at lower cost: bus rapid transit.
To that end, über-progressive Brooklyn councilman Brad Lander, who represents a district snaking from the Columbia Waterfront to Borough Park via Park Slope, has introduced a bill calling on the Department of Transportation to create a comprehensive citywide plan for rolling out what the MTA terms "Select Bus Service" (their brand of bus rapid transit, consisting of bus lanes and fare pre-payment, among other things, to speed up buses), already in operation on First and Second Avenues in Manhattan and a few routes in the outer boroughs.
While city politicians don't shy away from demanding things of the state-controlled MTA, Mr. Lander's bill puts pressure on the city's Department of Transportation, which actually has a hand in rolling out the routes.
The MTA and DOT have (and will continue to) paint new SBS routes, and Christine Quinn has called for ten new SBS lines as her signature transit proposal. But community opposition sometimes stands in the way—the recent and much-lamented death of the 125th Street SBS route being the most prominent example.
To Mr. Lander, the piecemeal approach that the MTA and DOT took to the lanes, and their strict policy of not rolling them out without approval from local community boards and elected officials, doesn't go far enough.
"Of course you work with communities to make it happen," Mr. Lander told The Observer (followers of Mr. Lander on Twitter can attest to the fact that "community" is by far his favorite word), "but I don't think you can approach it so that each one has to be considered on its own, and any time some interest in a community seeks to block it, that can be enough resistance to stop it from moving forward."
"The majority of New Yorkers," he continued, "don't own cars. We need to improve public transit, but unfortunately often community boards overrepresent car owners, and you can get interest groups to step up on something most people don't know anything about, and block something that's absolutely in the broader interest."
In Mr. Lander's own district, only two of the four community boards backed the DOT's planned traffic calming measures for unruly Fourth Avenue (which don't involve a bus lane), but Mr. Lander supported the effort in spite of their disapproval.
"During our terms in elected office," Mr. Lander and fellow councilmember Steve Levin wrote to the DOT, "there have been very few instances in which our position on an issue differs with that of a local Community Board, and doing so is not a decision we take lightly. However, given the severity of the safety risks along 4th Avenue, we respectfully but strongly disagree with CB6's rejection of the proposal."
"Look at the solid waste management plan," he told The Observer, giving an example of citywide planning that must reconcile the need for public works with local opposition. "If you did waste transfer stations one at a time to get the approval of the community board, we'd have a very hard time getting anything done."
In addition to quantity, Mr. Lander wants better quality. SBS is not, some detractors claim, robust enough to qualify as true bus rapid transit, and Mr. Lander wants to give SBS routes physically-separated lanes—as opposed to the painted ones they have now, which he'd also like to see better enforced, ideally by cameras on the fronts of buses—and the busiest stops stations instead of mere stops, like with some of the more complete bus rapid transit implementations in Latin America and China.
Mr. Lander also said he'd like to see SBS-like features to speed buses routes along streets that are not wide enough for the dedicated lanes that SBS requires. (B35 on Church Avenue, we're looking at you!)
"I would love to see off-board fares"—speeding boarding on buses, where drivers have to idle the bus for minutes at busy stop while riders line up single-file to swipe their MetroCards, by installing ticket machines on the street and performing random checks—"and countdown clocks."
"The next mayor can't be the bike mayor," Mr. Lander told The Observer—that's already taken by Michael Bloomberg. "But they could be the bus mayor!"