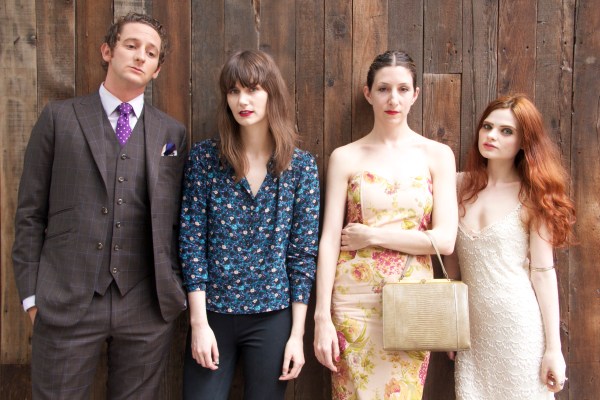 There is only one New York—but life is different here for everyone. In these memoirs, a new class of young writers recollect coming of age in the center of the universe.
1. Rivington Was Ours by Brendan Jay Sullivan
Brendan Sullivan, aka DJ VH1, is Lady Gaga's friend and former DJ. He offers a vivid portrait of the Lower East Side in 2006, detailing Gaga's rise to fame, but also the struggles of the cocktail waitresses, hostesses, bartenders and everyone else in the scene who was trying to "make it." The book is a modern day La Bohème, albeit with very different background music.
2. Night Terrors by Ashley Cardiff
A 21st-century Daria, Ashley Cardiff captures the terror and anxiety that accompany early forays into sex and dating. From attending a teenage orgy with a stapler and textbook (she thought her preparedness would be valued) to listening to electronic cigarette smokers opine on Machiavelli in Brooklyn bars ("If I were horrible enough to be sexually aroused by men who like to think they read books but just kind of look at words, New York would make me so full of babies I'd have to shoehorn them out to make room for my organs"), she will keep you laughing at her sick, sad world.
3. Iris Has Free Time by Iris Smyles
Schooled on television's Sex and the City, Iris shows up at her first job interview in a red and green tartan suit, nervously adjusting the seams on her stockings. It would have worked out better for Carrie Bradshaw. In spite of this less than stellar beginning, she interns at the New Yorker (and passes out drunk there), enrolls in graduate school, dates a string of older men, and after many years, begins to find that real life is more satisfying than anything you might have seen on HBO.
4. Girls?  edited by Stephanie Georgopulos; selected essay by Rachel Rabbit White (pictured)
If you're tired of waiting for Lena Dunham's autobiography, download this e-book to read a collection of thirteen frank essays by women aged 23 to 31. Stephanie Georgopulos succeeds in showing that women cannot be easily categorized, and that there is more to being a twentysomething woman in New York than bad dates and awkward sex. Standout pieces come from rising stars like Rachel Rabbit White, who discusses in her essay—rather as Joan Didion did in "Goodbye to All That"—how New York will exacerbate any neurosis.
Photograph by Peter Lettre.