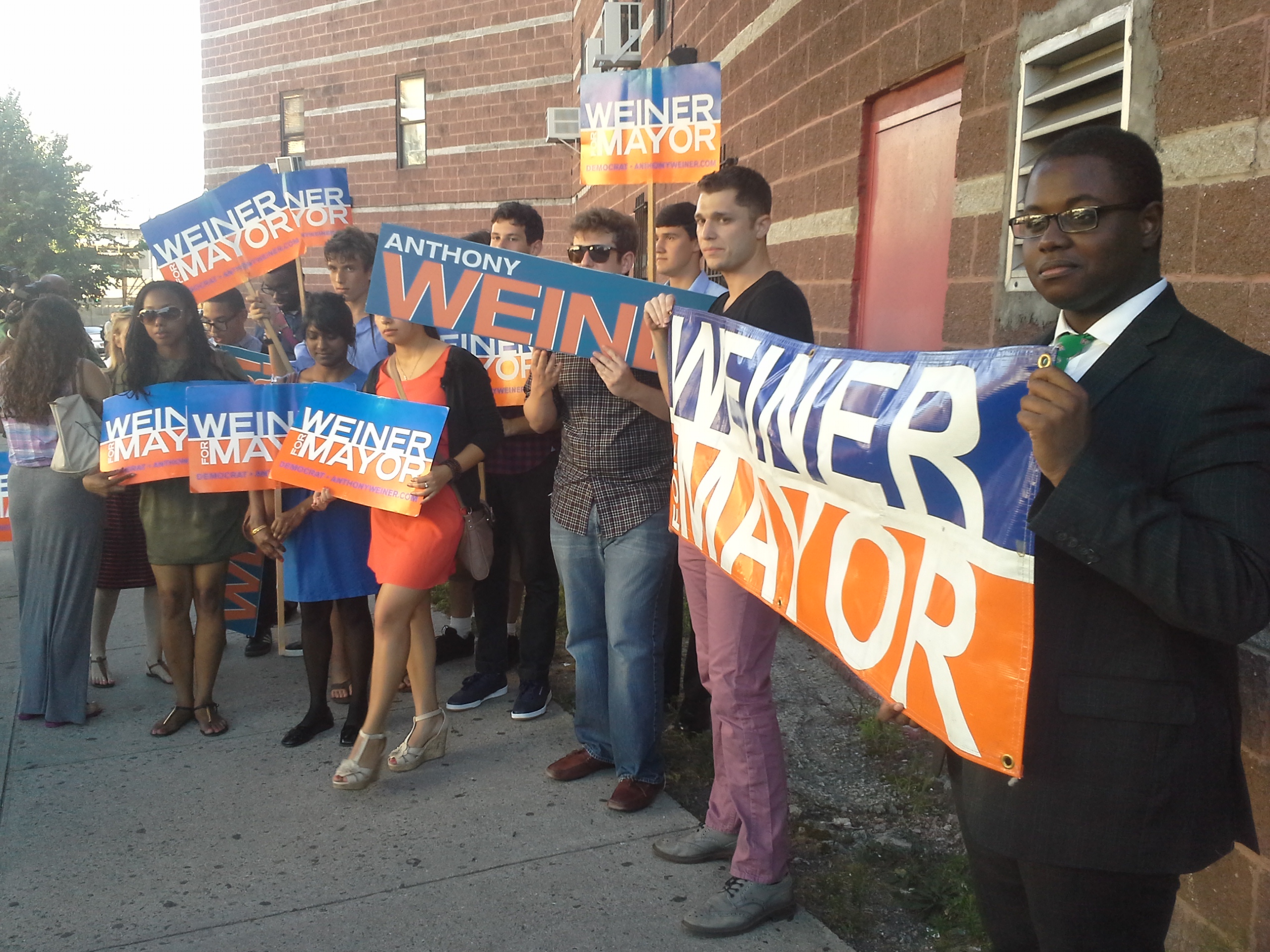 In the middle of a mayoral forum in the Bronx last night, Anthony Weiner announced, for unexplained reasons, that he would be leaving early.
The murmurs in the crowd erupted into outright disgust as a phalanx of cameramen and reporters stampeded from the second floor church room to grill Mr. Weiner on his way out, leaving the forum, once packed with media, virtually uncovered.
As the former congressman fielded repeated questions on a sidewalk about the latest sexting scandal to engulf his campaign, the forum on housing issues carried on, resentful that Mr. Weiner had left and taken a large cluster of the New York press corps with him.
"It was pretty disrespectful," said Dr. Charles Curtis, chairman of the Harlem Interfaith Commission, which hosted of the forum held at the Thessalonia Worship Center. "It seems as though they came to hear one candidate because of what he had done in the past as opposed to dealing with the core issues that people are concerned with."
In his media scrum downstairs, a weary Mr. Weiner tried and failed to engage the media in any talk about housing issues or the Bronx. Meanwhile, the remaining candidates–a pack of underdogs that included Rev. Erick Salgado, former Councilman Sal Albanese and former Bronx Borough President Adolfo Carrión Jr.–lobbed shots at Mr. Weiner and the media in their absence.
According to some audience members, as the reporters cleared out, Mr. Carrión shouted, "Shame on you!" One local reverend, speaking at the end of the forum, called the media a "disgrace." And the predominately black and Latino audience, less fascinated by the scandalous Weiner campaign, was similarly perturbed by Mr. Weiner's ability to clear the room.
"I was very upset because you know, he [Mr. Weiner] can get on KISS F.M. and talk about certain things, but then to rush out–and the media, to follow him like that, it was ridiculous," groused a Bronx woman who declined to give her name. "I was really shocked to see the media run out like that and that's not fair coverage, for them to do that."
Another woman initially assumed that an emergency had drawn all of the reporters away.
"I thought that was rude, very disrespectful," Lucille Rivers, a retired AT&T supervisor, said about both Mr. Weiner and the media's departure. "I thought something bad happened at first when they all left."
Mr. Carrión, the Independence Party candidate and a frequent critic of the news media, told Politicker that the media was simply "enabling" Mr. Weiner.
"You know, here you have a community with the highest levels of poverty, with health conditions that are unacceptable, a jobless rate that is extremely high, probably higher than most parts of the country. And the media comes in following Anthony Weiner to capture some moment, I guess, in his engagement with his apology tour or I don't know what it is," Mr. Carrión said. "The man needs some serious help. He shouldn't be subjecting New Yorkers to this and he certainly shouldn't be marching off in a press conference in the middle of a forum about the issues of poverty in our city … I think the media needs to stop enabling this."
For his part, Mr. Weiner addressed these sorts of accusations in today's Daily News.
"They accuse me of turning this campaign into a media circus," he said, "but it is the media that dwells on this aspect of my personal life and then accuses me of making a circus. Cover the real issues I address every day and there will be no circus."