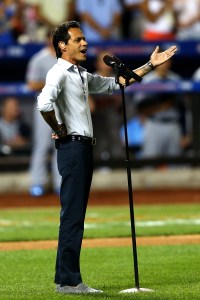 After singer Marc Anthony was berated on Twitter, a pair of politicians have rushed to his defense.
The social media offense came Tuesday, after Mr. Anthony sang "God Bless America" at Citi Field during Major League Baseball's All-Star Game. This somehow caused a storm of controversy, with people complaining about "a Mexican" using racially-charged rhetoric. Mr. Anthony, however, was born New York City and is of Puerto Rican descent.
Congressman José Serrano and his son, State Senator José Serrano, were outraged and released a statement Friday expressing their disgust.
"Marc Anthony is a great American who performed at the All Star Game and has suffered unspeakable attacks on social media from outright racists ever since," Congressman Serrano raged. "I denounce these racist comments and postings in the strongest possible terms."
"It is disheartening to hear of the racist, hate speech that was directed towards Marc Anthony after his magnificent performance," Senator Serrano piled on.
The younger Serrano also expressed strong support for Mr. Anthony's music in general.
"Marc Anthony's passion and love for this country can be felt throughout his music," he added. "Having grown up in El Barrio, one of the most culturally vibrant and diverse neighborhoods in New York, he in so many ways personifies what it means to live the American Dream."
For his part, on Thursday, Mr. Anthony declared, "To set the record straight, I was born and raised in New York, you can't get more New York than me."