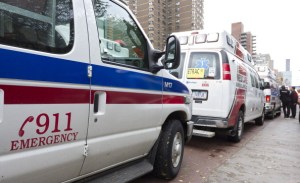 Amid the chaos of July 4 festivities, a suspect held in police custody in Brooklyn died after waiting four hours for an ambulance.
DNAinfo reported that Angel Cordero, 39, was hauled into the 88th precinct on Independence Day after allegedly attacking his girlfriend with a knife. The incident took place around 4 a.m. at the corner of Myrtle and Carlton Avenues.
Soon after being placed in a holding cell, Mr. Cordero began to exhibit symptoms of distress, according to the website. Police routed an ambulance for the suspect to Woodhull Hospital, where he was treated for an "undisclosed ailment." Just an hour later, he was transported back to his cell.
Around 1:40 a.m. on July 5, Mr. Cordero's symptoms escalated, sources told DNAinfo. But this time, when police dispatched emergency services, they were met with a bleak response. Given the profuse amount of accidents in the post-Fourth of July haze, ambulances would be tied up indefinitely.
"There was a scarcity of ambulances that morning," one source told DNAinfo, "and they were tied up all over on Fourth of July related calls."
Authorities, however, were nonplussed, deeming Mr. Cordero's symptoms "non-critical."
At 5:27 a.m., Mr. Cordero started to have a "massive seizure." Police hurriedly called 911, but by the time EMS respondents were dispatched, he was already dead.
The NYPD did not respond to DNAinfo's requests for comment, and it remains unclear why police officials did not transport the suspect to medical care themselves, along with why an ambulance—even with the holiday demand—never made it within the four-hour span.