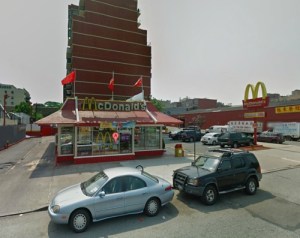 Since its rezoning in 2003, Fourth Avenue in Park Slope has seen a few new apartment buildings go up, but developers only got a few years in before the financial crisis put a freeze on new construction along the avenue, leaving it in its current half-industrial, half-luxury residential state.
But as Brooklyn's housing market heats back up, landowners are putting development sites back on the market, and builders are crawling over each other to get a piece of the action.
A site marketed by TerraCRG, 275 Fourth Avenue, currently occupied by a suburban-style McDonald's at First Street, just sold for $14.8 million, Ofer Cohen told The Observer—well above the $12 million that the seller was asking for the land.
"There was a complete bidding war," Mr. Cohen said. "We must've gotten around 30 bids in writing."
The original asking price was $200 per developable square foot, but it ended up closing for $246. "When Miki Naftali bought a site at 267 Sixth Street, it was half the price. It was a very similar deal—80,000 square feet, with an approved plan from Karl Fischer. That just shows you how land prices have escalated."
The buyer was a joint venture between Adam America Real Estate and Silverstone Property Group, who have worked on a number of deals together in Brooklyn already.
"It's the fifth deal we've joint ventured on together," Martin Nussbaum at Silverstone told The Observer. "Our plan is to build a very high end rental building of approximately 75,000 square feet, with 6,000 square feet of ground floor retail" and approximately 75 market-rate apartments.
They've hired ODA Architecture, an accessible high design firm led by Eran Chen that's worked on small- to mid-sized projects in Manhattan and the outer boroughs, to do the project—a far cry from the more budget-minded designs that have popped up along Fourth Avenue. The two developers are also working with ODA on a warehouse in Dumbo, 201 Water Street, that they're converting to condominiums.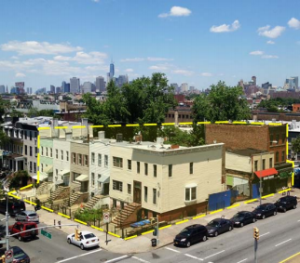 "I think there's an opportunity to capitalize on a higher-end rental product" on Fourth Avenue, Mr. Nussbaum said. "There have been a couple of new buildings that I'll stay silent on that I don't think are as great as they can be."
And while Fourth Avenue is gaining in respectability as the auto repair shops and surface lots are turned into glassy luxury apartments, the more residential side streets are still more desirable. "It's a First Street sort of address building," Mr. Nussbaum said of the project at 275 Fourth Avenue. "We're really going to brand this not so much as Fourth Avenue."
The stretch of Fourth Avenue from Douglass Street in the north to Sixth Street to the south has somewhat of a blight barrier to overcome, as the western side of the avenue was never rezoned for residential use. While some of the buildings are more attractive "non-conforming uses"—that is, pre-war tenements—the views of auto body shops across the street from the new buildings aren't going away any time soon.
Aside from the McDonald's parcel, TerraCRG has also brokered the sales of 245 Fourth Avenue and 269 Fourth Avenue, both of which are in contract (the former above the asking price) but have not yet closed.
Stephen Palmese at Massey Knakal also said his firm was working on a couple of deals in the area—"we've got some really big stuff we're doing in that part of town"—but declined to elaborate.
And for builders still looking for sites, TerraCRG is marketing 470 Fourth Avenue, between 10th and 11th Streets. The seller wants $20 million for the land, which is zoned for around 86,000 square feet of development, making it the largest site in Park Slope to hit the market in years, according to Mr. Cohen.