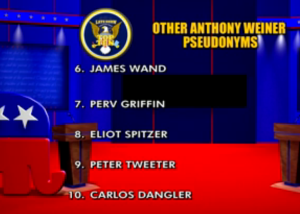 David Letterman appeared genuine as he mused on New York City's latest sex scandal last night.
"I can forgive anybody of almost anything except pretending and wanting to be 'Carlos Danger,'" the Late Night host said as he marveled over allegations that Anthony Weiner–who admitted yesterday to continued sexting after his sexting-induced resignation from Congress–used the nickname "Carlos Danger" for some of his escapades.
"Once you identify yourself as Carlos Danger can you really be Mayor of New York City?" Mr. Letterman asked. "Would anybody ever take us seriously again? 'Oh that's right, your mayor is Carlos Danger.'"
Spanish music then helped Mr. Letterman transition to his "Top Ten List" of other pseudonyms for Mr. Weiner, a list that included "Carlos Dangler," "The Notorious Not-So-B.I.G." and "Eliot Spitzer." (Mr. Weiner denied knowledge of the moniker to Politicker yesterday.)
The Tonight Show's Jay Leno also got in on the all-too-tempting action.
"This is Weiner's way of getting more Latino support," he suggested. "As a comedian, I am pleading with the voters of New York: Please elect this man! Please!"
Watch both segments below: