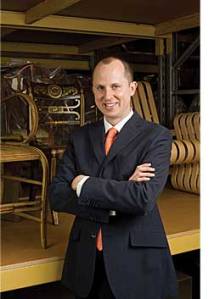 The Saint Louis Art Museum has named Jason T. Busch, currently the chief curator and Alan G. and Jane A. Lehman curator of decorative arts and design at the Carnegie Museum of Art in Pittsburgh, as its new deputy director for curatorial affairs and museum programs. Mr. Busch will oversee a wide swath of the museum's operations, including its "curatorial, exhibitions and collections, and education and public programs divisions," according to a news release. Prior to arriving at the Carnegie, Mr. Busch worked as an associate curator at the Minneapolis Institute of Arts. He recently participated in the Center for Curatorial Leadership's fellowship program in New York.
"I am honored to join the Saint Louis Art Museum as the institution embarks upon an auspicious chapter in its history with the opening of the acclaimed East Building," Mr. Busch stated in an announcement sent to press. "The depth and breadth of the collection, as well as the high level of talent and scholarship of museum staff, is indeed impressive."
Mr. Busch will start in St. Louis in October, following the opening of the 2013 Carnegie International, a survey of contemporary art mounted every five years that dates back to 1896.