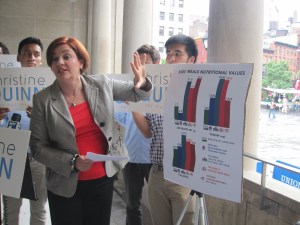 City Council Speaker Christine Quinn is following in Mayor Michael Bloomberg's health-crusading footsteps, announcing a new crackdown today–on kiddie meals.
Ms. Quinn said that, if she wins the mayor's race, she wants to force chain restaurants that already post their calorie counts to set new restrictions on kids' menus and happy meals, more in line with the standards the USDA sets for school lunches.
According to her campaign, the grilled cheese kid's meal with fries at Applebee's packs a whopping 21 grams of saturated fat, 2,34o milligrams of sodium and 1,210 calories–dramatically higher than the 7.2 grams of fat, 740 mg of sodium and 650 calories school lunches are allowed.
"We're not going to limit parents' choices. You'll still be able to order whatever you think is right for your children. But what we're saying is that companies can't spend millions of dollars on marketing or include items on children's menus if those foods clearly are going to lead to obesity, which could lead to diabetes or other diet-related illnesses," Ms. Quinn told reporters at a press conference at the Union Square green market.
The ideas was part of a package unveiled by Ms. Quinn that also included plans to double the number of school-based health centers and require all new schools to be built with gyms.
Ms. Quinn's close ally, Mr. Bloomberg, has long been accused of taking his nanny-state paternalism too far, after barring trans-fats, forcing chain restaurants to post calorie counts and attempting–unsuccessfully–to regulate soda sizes.
Ms. Quinn was notably opposed to Mr. Bloomberg's super-sized soda ban, but maintained her lunch crackdown was qualitatively different.
"We're not telling parents that they can't get a child's meal. We're not even telling parents they can't get the things that are in this Outback child's meal. We're telling these restaurants that when you're marketing something to children, you're sending a message to a parent that this meal is good for children. And if you're gonna send that message to parents that this meal is good for a child, we're going to make sure that we actually know it's good for a child."
"Parents can still buy whatever meal they think is right, " she added. "The decision is their hands."
Several reporters noted that kids' meals are generally less expensive for parents and that many eateries already feel overburdened because of stringent regulations and soaring Heath Department fines. But Ms. Quinn said she didn't expect the measure–which she believes can be be put in place without state approval–to lead to the death of the happy meal.
"I don't believe that any of these establishments are going to stop offering children's meals, but I do believe they will find a way to offer children's meals that are not off-the-charts in unhealthy ingredients and calories," she said, adding that she expected restaurants to rally around the proposed regulation "to help New York City families."
But a spokesman for Applebee's, one of the eateries she specifically cited, said the chain already makes nutritional information available for every one of its items and offers items well within the USDA limits.
"Applebee's is committed to offering healthful options for children, such as our Kids LiveWell-approved Grilled Chicken Sandwich, with a side of steamed broccoli and apple or grape juice – a meal that totals only 355 calories, 5 grams of fat, 1.5 grams of saturated fat and 600 milligrams of sodium," he said in a statement.
But, he noted that, while the chain has been investing in healthful options: "Our Guests have told us that Applebee's best serves them when we provide a wide selection of menu options and enable Guests to make their own choices on how and what their children will eat."
Politicker also asked the speaker whether voters should expect a "Nanny Quinn" in office if she wins.
After a hearty laugh, Ms. Quinn said: "They will see a mayor who is committed to helping New York City improve its public health, particularly the public health of children."