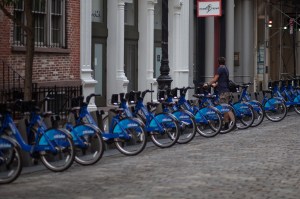 If anyone is going to exploit tourists, it's going to be them.
In a not-so-shocking turn of events, Citi Bike has had negative consequences on independent bike rental programs, according to workers on the southern tip of Central Park.
They say that tourists are choosing to go with the $10 Citi Bike day rate rather than the $10 per hour prices of the bike companies.
"This year is slower than the last year," one worker, Abdullah, 37, said to DNAinfo. "They just put the [Citi] bikes right there in front of us."
In defiance of the program, and in interest of protecting their businesses, some of the Central Park bike rental workers have taken to standing in front of the blue bikes. They explain to tourists who approach why their agency is actually the much better deal.
"First they damage our business, and then they are scamming the tourists," Abdullah told DNAinfo.
While the $10 fee does allow the customer to use the Citi Bike all day, they are only allowed to have the bike for 30-minute intervals.
Abdullah claims that it takes two full hours to see the park and that the tourists don't understand the harsh overtime policies with Citi Bike.
Starting a minute after the allotted 30 minute ride, Citi Bike tacks on a $4 fee. For rides that are an hour past the time limit, they add a $13 fee — making it more expensive than the rental companies.
DOT spokesman Nicholas Mosquera told DNAinfo that the Citi Bikes weren't meant to take business away from these rental outfits.
"As Citi Bike's site says, bike share is meant for short trips and provides links to rental locations for riders that wish to keep bikes for an extended period of time," he said.
While Citi Bike seems to have negative consequences on some bike rental agencies, New York's bike industry has mixed opinions on the matter.
Metro Bicycle in Midtown offers $10 off helmets for any Citi Bike user and is optimistic on its future impact on the bike economy.
"We think that Citi Bike will end up encouraging more people to go out and buy bicycles as well as they see how much easier biking is" a store manager told The Observer.
Yet at REI in Soho, there isn't the same positive attitude about the program. A sales associate told The Observer that the Citi Bike station located in front of the Puck Building on Lafayette has drastically hurt their bike sales business.
In the past, wealthy travelers would buy a bike for the weekend then have it shipped home after their time in New York, but Citi Bike has eliminated that need.