Today, the city council is scheduled to vote on two plans to turn parkland over to private development, determining whether the United States Tennis Association will be allowed to expand its 46-acre footprint in Flushing Meadows Corona Park and if Governors Island's zoning will be changed to permit commercial development on the island for the first time in its history.
Public-private partnerships have a long and contested history in the New York City Parks Department and as the plans for USTA expansion and Governor's Island highlight, they can produce outcomes of widely divergent desirability.
On the one hand, such partnerships have fueled the development of projects like the High Line and Brooklyn Bridge Park, parks that likely would not have been created without private funds. In many ways, Governors Island, which the city sought control of with the assumption that private development would help to pay for its redevelopment, also falls into this category—the former Coast Guard base not only needs funds for its ongoing makeover from a military outpost, but also its considerable maintenance. While the city has committed some $260 million to the park's development, the amount falls far short of the funds needed for the 170-acre island's full transformation to a pleasure ground.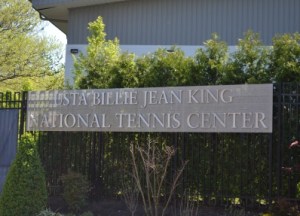 The rezoning proposal before the city council would allow commercial uses in 40 of the island's historic buildings, comprising approximately $1.2 million square feet, according to Crain's—bringing revenue-generating retail, restaurants and possibly even a hotel to the island. In return, while the city council has asked for concessions, including a commitment to use union labor on the projects, the rezoning seems likely to pass. Especially given that Matthew Viggiano, councilmember Margaret Chin's director of land use and planning has voiced his support, telling Crain's that "The rezoning of Governors Island for commercial use is an important step in realizing the potential of the island and hopefully making it self sufficient financially in the future."
The case of the USTA is more complicated, in no small part because Flushing Meadows Corona Park has been so relentlessly pursued by private interests of late that the call for just a little more space feels disingenuous. Just a little bit for an MLS stadium, and just a little bit for Related's shopping mall (admittedly, a bit that's now a parking lot, but still…) and just a little bit more for USTA, which already has 46 acres.
USTA's expansion plan calls for .68 acres to build two new stadiums and two new parking garages that the organization claims that it absolutely must have if it is to remain a world-class facility. Nonetheless, the council is not obligated to accommodate the desires  of a private organization at the expense of even more public parkland, which has not benefited much from USTA's presence.
As Dana Rubinstein wrote in a recent Capital NY article on USTA's unwillingness to budge on a number of issues, in addition to the fact that USTA's somewhat small contribution goes into the city's general fund rather than the upkeep of the park, "to some extent, it even renders the poorly-funded, poorly-maintained, but nevertheless popular park less usable, since the tennis association and the Parks Department allow tennis fans to park hundreds of cars on park lawns during the tournament."
That the USTA feels itself in the power position—not needing to make concessions—during negotiations to alienate additional public land is problematic. While it may be true, as tennis pro Billie Jean King wrote in the Daily News, that "the center desperately needs to expand to become a better U.S. Open host so that it can continue drawing thousands of fans and millions of dollars in economic development revenue to New York every year," any organization operating in public or formerly public parkland surrounded by public parkland should operate under the assumption that expansion will not be possible, and that the original deal struck to operate under privileged conditions in public space does not entitle one to additional space alienated from public use.
Certainly, the tennis center is a much more public and widely-beneficial use than say, shopping or housing, but any organization that feels future expansions will be central to their ability to remain vibrant and healthy should do what every other private organization in the city does: build on private land.