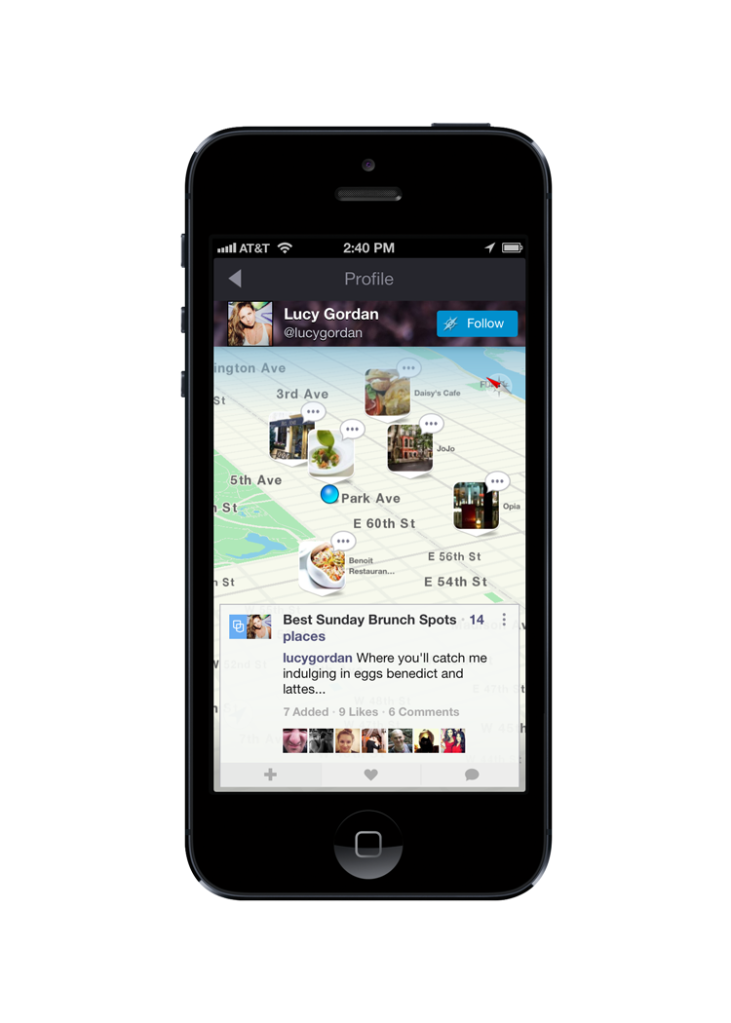 At this point, most people are pretty much devoted to their current map app, and odds are that's probably Google's. But that's apparently not enough to dissuade the guys at New York-based Citymaps, which just released a revamped version of its product in iOS form, in an attempt to make maps more social.
"We're trying to rethink maps and trying to think about what maps are going to be in the future," CEO Elliot Cohen explained to Betabeat.
"One thing that's really glaring about maps today is they're a very lonely, solitary experience, and if you and I both open Google Maps we're going to get the same thing, but you can't really do anything together on the map," he added.
So how exactly does one make maps more social? Fire up the updated app, and you'll find a map festooned with retail logos. Click a listing and you're taken into a business page with all the usual bells and whistles–Instagram photos, phone number, Foursquare tips, menus.
More importantly, you can create your own maps and save them all in one place–and you can also follow that one friend who's always got the best brunch recommendations, or the most encyclopedic happy hour knowledge. Then whenever they create a map, you'll see it. You can also collaborate on group maps, in case you're feeling extra lonely.
The company is also launching with partners like Time Out New York, Stylecaster, and the L.A. Department of Tourism (which, of course, has a "celeb-spotting" map). "This is a place where you can find all the great maps of the world," explains Mr. Cohen, whether it's a map of cooling centers or a list of glamorous shopping destinations.
Previously, the two-year-old company released an app specifically for New York, which was selected as an official app by the Department of Tourism. The revamped version, however, is launching nationwide. Mr. Cohen said they're already generating "significant revenue," including through a partnership with Yext, and they've been approached about licensing the app out to a smartphone maker.
Then, of course, there's always the distant holy grail of local advertising.
"There's millions of maps that get made, and they're made in a really inefficient way, and there's no way to share really beautiful maps with your friends and followers," said Mr. Cohen. "A social experience around a map is sorely lacking in the marketplace and I think that right there is what's going to really drive deep adoption from users."
Hey, at the very least it'll give your foodie friends a new way to brag.