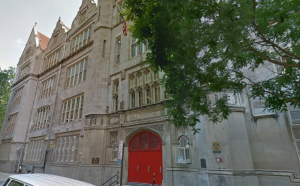 This Upper West Side playground has become a battleground.
Some parents of P.S. 166 students have argued that the sloping cobblestoned area on the school's adjoining playground, known as Playground 89, is a hazard for children who are likely to scamper and trip over the uneven surface, made worse by protruding edges and stones that frequently come loose or are dislodged. Only a smooth surface will do for their perfect progeny.
A parents' coalition successfully lobbied the Parks Department to launch an emergency $600,000 renovation to flatten the playground, which was scheduled for early this month.
"You see children constantly tripping and falling," parent Michele Samarel told DNAinfo in March.
The tally of injuries includes four concussions that required ER visits, four broken arms, a broken elbow, two head wounds needing stitches, plus multiple bloodied faces and chipped teeth.
But a group calling themselves "Friends of Playground 89" and the advocacy group Landmark West! filed an injunction in court to put a stop to the upgrade.
"It goes without saying that every parent wants a safe playground," parent Laurie Frey told DNAinfo. "The problem is that each parent has his or her own idea about what constitutes 'safe,'" Surprisingly, Ms. Frey had previously joined other parents in arguing against the cobblestones.
"No one in the surrounding community was advised these repairs were going to be happening and the beautiful park paved over," Stephanie Crossman, whose husband filed the lawsuit, told the Daily News. "Kids get hurt at any park. We've got no study that says there are more injuries here."
For now, the lawsuit against the Parks Department has been dropped, but only because Parks officials have decided to give the residents more notice before moving forward with removing all three-dimensional obstacles from the playground. Community Board 7 will be meeting tonight to decide how to proceed with the renovation plan.
One parent lamented, "Who will I have to thank if my child gets hurt on that playground next year?"