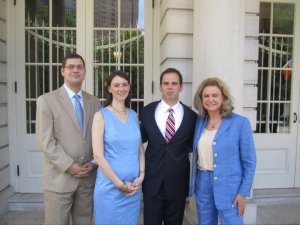 Assemblyman Dan Quart re-affirmed his support for City Council candidate Micah Kellner this afternoon, in the wake of allegations that Mr. Kellner had sexually harassed female staffers working in his Assembly office.
Mr. Quart reached out to Politicker to double-down on his support for his colleague's candidacy as other lawmakers, including City Councilwoman Jessica Lappin, State Senators José Serrano and Brad Hoylman and Assemblyman Robert Rodriguez, abandon the campaign.
"I just wanted to relay to you that I continue to support Assemblymember Kellner for his run for the City Council," Mr. Quart said in an interview, noting, "It's weird to have to call up and say I'm continuing to endorse someone I've already given my endorsement."
Mr. Quart declined to talk about the specifics of the allegations, but commended Mr. Kellner for the way he's handled the revelations.
"He has certainty been upfront and said that the conduct from 2009 was inappropriate, was unprofessional, and was wrong," he said, echoing Mr. Kellner's comments. "He's asked to be investigated … He is not hiding from that."
Mr. Quart also pointed to Mr. Kellner's "six-year of record achievement" while in office, including establishing a free legal clinic in his district and advocating for the construction of new middle schools.
"He's shown leadership, he's worked extremely hard, and he's achieved results," he touted.
According to a recent report, Mr. Kellner was allegedly the subject of a sexual harassment complaint from a former staffer that was never referred to the Assembly's ethics committee. The treatment prompting the dismissal of a top Assembly lawyer, Bill Collins. Since then, additional, unsubstantiated sexual harassment allegations have surfaced against Mr. Kellner.