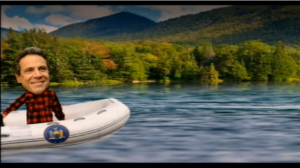 It's on.
Gov. Andrew Cuomo and Mayor Michael Bloomberg are set to face each other in an historic white water rafting challenge in the Adirondacks on Monday–and Mr. Cuomo is already eying victory.
"Well, winning isn't everything. But it's very nice, Curtis," Mr. Cuomo said wryly during an interview on the The Capitol Pressroom when asked by fill-in host Curtis Schick how important it was for him to beat the mayor.
Still, Mr. Cuomo admitted he's facing quite a challenge from the 71-year-old soon-to-be grandfather, with whom he's long butted heads.
"Mayor Bloomberg, I know, is taking this quite seriously. We have scouting reports on the New York City team. They've been practicing," he dished. "Some people say he's been recruiting people to join his staff just to put together a good rafting team. I don't know if that's true, but," he added, trailing off.
Mr. Schick noted the billionaire mayor has deep pockets, causing Mr. Cuomo to continue the riff.
"I understand he's taking this quite seriously, been preparing for months," Mr. Cuomo claimed. "And really, I'm just interested in the tourism aspect of it."
But Team Bloomberg wasn't taking the ribbing lying down–deftly lowering expectations ahead of the big day.
"We are definitely the underdog; they have home stream advantage," said mayoral spokesman Marc La Vorgna, who gave Politicker an inside peek into one of the mayor's secret strategies.
"We considered hiring Kevin Bacon's character from the 'River Wild'," he revealed, "but with his criminal record, he would not have passed the background check required for employment here."
And it turns out Mr. La Vorgna isn't the only one who's been eying secret weapons.
State Senator Joseph Griffo reportedly cooked up his own plan to sink Mr. Cuomo's ship–stuffing him with Italian pastries during a recent trip to Herkimer.
"It was a sneaky ploy by the Senate, I have to admit, in retrospect. They caught be unaware," said Mr. Cuomo, who estimated he'd unwittingly "consumed about 4,000 calories in an hour."
"They called me afterwards, and they just tightened the trap. Senator Griffo said, 'Well, did you enjoy the pastry?' I said, 'As a mater of fact I did.' He said, 'Well, think about that when you're on the raft doing down the rapids.'"
"Next time the Senate comes bearing pastry," he added, "I'm gonna know they're up to no good."
The Adirondack Challenge, announced by Mr. Cuomo during his State of the State address in January, is intended to boost tourism in the region.